U kunt draadloze apparaten en gameconsoles met uw netwerk verbinden met behulp van de Linksys Connect-software.  Deze software biedt u de draadloze instellingen (naam en wachtwoord van het draadloze netwerk) die u nodig heeft om verbinding te maken met het draadloze netwerk.

Volg de onderstaande instructies om te weten hoe u uw draadloze apparaten verbindt met behulp van Linksys Connect.
 
OPMERKING:  Linksys Connect is ook bekend als Cisco Connect.
 
BELANGRIJK:  De onderstaande instructies zijn alleen van toepassing op gebruikers van de Linksys Connect-software.
Stap 1:
Start de Linksys Connect-software.  Klik

hier

om te leren hoe u het op verschillende besturingssystemen kunt starten.

Stap 2:
Selecteer Other wireless devices (Andere draadloze apparaten).

Stap 3: 
Het scherm Connecting a device (Verbinding maken met een apparaat) wordt weergegeven, neem kennis van de Network name (SSID) (Netwerknaam), Security Key (Beveiligingssleutel) en Security Type (Beveiligingstype).  Dit zijn de draadloze instellingen die u nodig heeft zodat uw apparaat verbinding kan maken met het draadloze netwerk.  Sluit dit venster NIET.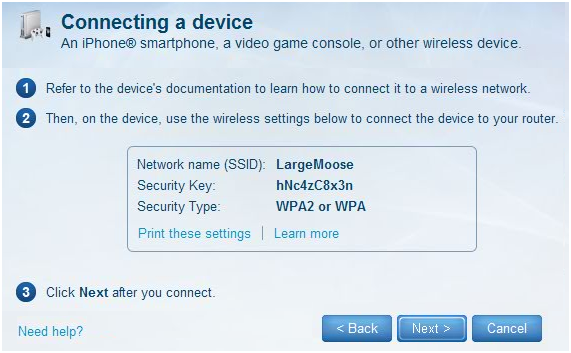 Stap 4:
Gebruik de eerder geleverde draadloze instellingen om uw apparaat met het draadloze netwerk te verbinden.  De onderstaande links bieden instructies voor het maken van een verbinding met internet, afhankelijk van het apparaat dat u gebruikt:
 
Stap 5:
Nadat u uw apparaat met succes heeft verbonden met het netwerk, gaat u terug naar de Linksys Connect-pagina en klikt u op Next (Volgende).
 

Stap 6:
In het volgende venster wordt u gevraagd om een naam op te geven voor uw apparaat.  Hiermee kunt u de verschillende apparaten die u op het netwerk heeft aangesloten, onderscheiden met behulp van de Linksys Connect-software.  Zorg ervoor dat u voor elk apparaat een afzonderlijke naam gebruikt.  Eenmaal gereed klik op Finish (Voltooien).
 
Uw draadloze apparaat is nu verbonden met het draadloze netwerk.

Andere dingen om te onthouden

Als u problemen ondervindt bij het verbinden van draadloze apparaten met het netwerk, kunt u het volgende proberen:
Start uw draadloze apparaat opnieuw op.  Schakel uw apparaat gedurende 10 seconden UIT en vervolgens weer IN en probeer opnieuw verbinding te maken met het netwerk.  Dit proces wordt uw apparaat powercyclen genoemd.  Het is de snelste en handigste oplossing voor elk verbindingsprobleem.
Controleer nogmaals de draadloze instellingen (netwerknaam en wachtwoord) die u heeft ingevoerd om uw apparaat met het netwerk te verbinden.  Deze instellingen zijn hoofdlettergevoelig, dus u moet ze gebruiken in overeenstemming met hoe ze worden weergegeven in de Linksys Connect-software.
Controleer of de MAC Filtering-functie van uw router is ingeschakeld.  Deze functie kan beperkingen instellen voor bepaalde apparaten om verbinding te maken met internet door hun Media Access Control of MAC-adressen te filteren (houd er rekening mee dat elk apparaat een toegewezen uniek MAC-adres heeft).  Als u wilt weten of draadloze MAC-filtering is ingeschakeld op uw router, opent u de webgebaseerde opstartpagina en klikt u op Wireless > Wireless MAC Filter (Draadloos > Draadloos MAC-filter).
U kunt ook het IP-adres verifiëren of proberen de router te pingen als u nog steeds problemen ondervindt om verbinding te maken met het draadloze netwerk.  Klik

hier

voor meer tips voor het oplossen van problemen.