Firmware-updates zijn bugfixes en functionaliteitsverbeteringen voor de router.  Het is belangrijk om de firmware van uw Linksys-apparaat up-to-date te houden, omdat het problemen oplost die u tijdens het gebruik ervan kunt tegenkomen.  Een bijgewerkte firmware die is gedownload van de Linksys Support-site kan ook verbeteringen aan apparaatfuncties bevatten die niet beschikbaar zijn in de vorige versies.
De firmware van de router handmatig upgraden
Automatische updates uitschakelen
Stap 1:
Download de meest recente firmware van uw Linksys Smart WiFi-router en het sla het op in uw computer.  Voor instructies klik

hier

. 

BELANGRIJK:  De firmware die heeft gedownload is een .zip bestand, u met deze uitpakken voordat u verder gaat met het upgrade proces.

OPMERKING:  De naam van het bestand kan variëren, afhankelijk van het firmwarebestand van uw apparaat.

Stap 2:
Open uw 

Linksys cloud account

.  Voor gedetailleerde instructies klik 

hier

.

Stap 3: 
Klik op Connectivity (Connectiviteit).
 
Stap 4:
Inde sectie Firmware Update, onder de tab Basic (Basis) klik op de knop 

 (Kies bestand).
 
Stap 5: 
Selecteer het bestand die u heeft gedownload en klik op Open.
 
Stap 6: 
Klik op de knop 
.
Stap 7:
Op de Update firmware pop-up box, klik op Yes (Ja).  De router zal beginnen met het actualiseren van de firmware.

OPMERKING:  Tijdens dit proces, schakel uw router niet UIT of sluit het venster van de browser NIET.
Stap 8:
Een Router Reboot scherm zal verschijnen.  Klik op Ok om door te gaan.

OPMERKING:  De router reboot proces duurt meestal een paar minuten .
Stap 9:
Op het scherm Firmware update complete (Firmware actualisatie voltooid), klik op Ok.
De firmware van uw router moet nu geactualiseerd zijn.
De Linksys Smart WiFi-routers hebben ook een Auto Firmware Update functie die automatisch de router actualiseert wanneer er een nieuwe firmware beschikbaar.  Als u wilt voorkomen dat uw router automatisch firmware actualisaties ontvangt, moet u de Automatic Firmware Update functie UIT schakelen.  

Volg onderstaande stappen:
Stap 1:


Log in op uw

Linksys cloud account

.  Zodra de webgebaseerde opstartpagina verschijnt klik op Connectivity (Connectiviteit).

OPMERKING:  Als u geen Linksys cloud account heeft, open de webgebaseerde opstartpagina door een web browser te openen en in de adres balk "http://myrouter.local" of "192.168.1.1" in te voeren en op [ENTER] te drukken.
Stap 2:
Op de Linksys cloud account pagina, klikt u op Connectivity (Connectiviteit).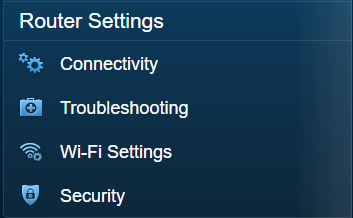 Stap 3:
In het tabblad Basic (Basis), verwijder het vinkje naast het selectievakje Automatic (Automatisch) onder Firmware Update en klikt u op Ok.
OPMERKING:  Om de automatische firmware actualisatie weer IN te schakelen, vinkt u het selectievakje naast Automatic (Automatisch) weer aan, en klikt u op Ok.


Gerelateerde video:
De WiFi-instellingen wijzigen met behulp van de Linksys Smart WiFi Cloud Account
Het wachtwoord van de router controleren en actualiseren met behulp van de de Linksys cloud account
Hoe de WiFi van mijn router of gateway UIT schakelen