Cascading (Verbinden) is een term die wordt gebruikt voor het aansluiten van een router op een andere router of een modem/router. Dit type configuratie wordt aanbevolen, als u het volgende wilt: 
De prestaties van het netwerk verbeteren zonder dat u uw oude router hoeft te verwijderen

Meerdere apparaten aansluiten (bekabeld en draadloos)

Het draadloos netwerkbereik uitbreiden

Het netwerkverkeer isoleren 
Het IP-adres van de Linksys router wordt meestal standaard op 192.168.1.1 gezet. Als er twee routers zijn aangesloten, zullen hun IP-adressen conflicteren en zal er geen internetverbinding mogelijk zijn. Linksys Smart Wi-Fi Routers kunnen dit IP-adresconflict detecteren en oplossen.
 
Uw Linksys Smart Wi-Fi router cascading aan een bestaande router is eenvoudig en gemakkelijk want u hoeft de instellingen niet handmatig te configureren. De Linksys Smart Wi-Fi router zal detecteren dat het wordt cascaded en zal de instellingen automatisch configureren om de verbinding te laten werken.
 
OPMERKING: Voordat u uw Linksys-router aansluit, moet u ervoor zorgen dat u een actieve internetverbinding heeft met uw primaire router. De primaire router kan een bestaande router in uw netwerk zijn of een modem / router van uw internetprovider (ISP). Als u geen actieve internetverbinding op de primaire router heeft, neemt u contact op met uw internetprovider of de fabrikant van de router.
 
Volg onderstaande instructies voor het cascading van een Linksys Smart Wi-Fi router:
Stap 1:
Sluit een Ethernetkabel van uw computer aan op één van de genummerde poorten (1-4) aan de achterkant van de Linksys Smart Wi-Fi router.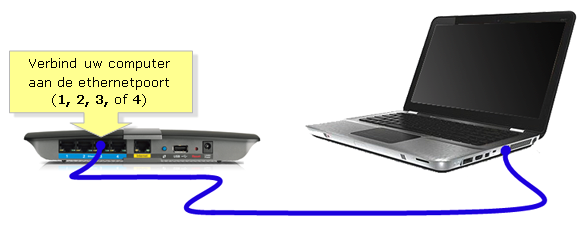 Stap 2:
Sluit de
primaire
router aan op de
internetpoort
van de Linksys Smart Wi-Fi router.

Stap 3:
Sluit de meegeleverde voedingsadapter aan op een stopcontact en op de Linksys Smart Wi-Fi router.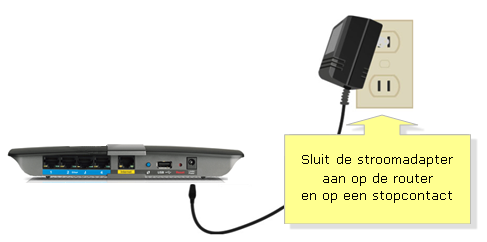 De Linksys Smart Wi-Fi router zal automatisch zijn IP-adres wijzigen in het 10.X.X.X netwerk. U kunt dit bekijken door naar uw opdrachtprompt te gaan.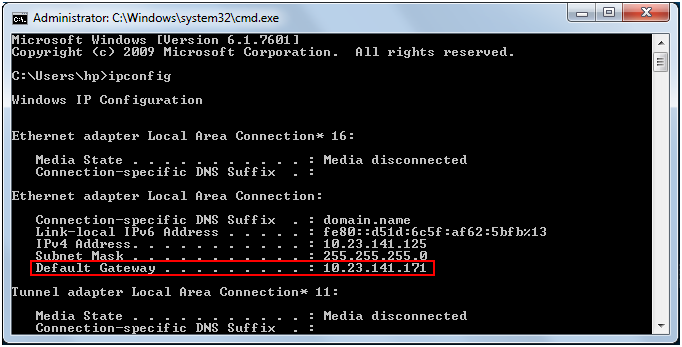 U kunt nu doorgaan met het beveiligen van het draadloze netwerk van uw Linksys Smart Wi-Fi router. Klik
hier
voor instructies.
 
SNELLE TIP: Als u het IP-adres van uw Linksys router handmatig heeft gewijzigd, voert deze een automatische detectie uit en wordt het IP-adres voor het 10.X.X.X netwerk automatisch gewijzigd zodra het is gereset.
 
Uw netwerk uitbreiden
 
Uw router is in staat om meerdere apparaten binnen het netwerk, zoals smartphones, gameconsoles en printers, aan te sluiten. Als u een groot huis heeft met apparaten die een hoge netwerksnelheid en een groot bereik nodig hebben, kunt u ook het bereik van uw draadloze netwerk uitbreiden door gebruik te maken van andere netwerkapparaten van Linksys, zoals de Powerline-adapters. 
 
 
Gerelateerde artikel:

 

Cascade (verbinden) van een Linksys router met een andere router (VIDEO)