De Security Tool van de Linksys Smart Wi-Fi heeft drie (3) belangrijke functies die u controle geven over de bescherming van uw router en uw thuisnetwerk.
Een softwarefirewall beschermt uw lokale netwerk tegen internetbedreigingen door de inkomende en uitgaande communicatie van uw router te filteren. 

VPN Passthrough (VPN-doorvoer) – Een Virtual Private Network (VPN) maakt gebruik van een openbaar netwerk, zoals internet, om veilige communicatie tussen een externe computer en een ander netwerk te bieden.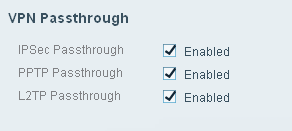 IPSec Passthrough (IPSec-doorvoer) – Internet Protocol Security (IPSec) is een  gevolg van protocollen die worden gebruikt voor het implementeren van een beveiligde pakketuitwisseling.
PPTP Passthrough (PPTP-doorvoer) – Met Point-to-Point Tunneling Protocol (PPTP) kunnen VPN-clients een PPTP-tunnel via de router tot stand brengen.
L2TP Passthrough (L2TP-doorvoer) – Met Layer 2 Tunneling Protocol (L2TP) kunnen VPN-clients op het lokale netwerk een L2TP-tunnel via de router tot stand brengen. 
Met deze functie kunt u IPv6 aanpassen voor havendiensten of toepassingen.

Wanneer gebruikers dit soort verzoeken via internet naar uw netwerk verzenden, staat de router die verzoeken toe aan de juiste computers.
Internet Filters (Internetfilters) – Ingeschakelde filters helpen bij de algemene beveiliging wanneer u al bent verbonden met internet.
​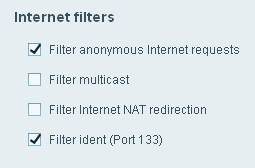 U kunt selecteren of u de volgende internetfilters wilt in- of uitschakelen: 

Filter Anonymous Internet Requests (Anonieme internetverzoeken filteren) – Deze functie blokkeert pingverzoeken van computers op internet naar uw router.
Filter Multicast (Multicast filteren) – Multicasts zijn vergelijkbaar met broadcasts en worden standaard naar alle computers op een netwerk verzonden.  Met deze optie blokkeert u Multicasts.
Filter Internet NAT Redirection (Filter Doorsturen NAT) – Deze functie voorkomt dat een lokale computer die een URL of internetadres in uw netwerk gebruikt, toegang heeft tot uw lokale server.
Filter ident (port 133) (Ident filteren (poort 133)) – Deze functie voorkomt dat indringers van buitenaf toegang tot uw router krijgen via internet via servicepoort 133. Voor sommige toepassingen kan deze servicepoort nodig zijn. Schakel in dat geval deze optie uit.
Demilitarized Zone (DMZ) is een functie die alle inkomende poorten in de WAN-interface doorstuurt, behalve die welke specifiek zijn doorgestuurd, naar een IP-adres of MAC-adres.  Deze functie kan worden gebruikt om een webserver, mailserver of webcamera bloot te stellen aan internet zodat iedereen er toegang toe heeft.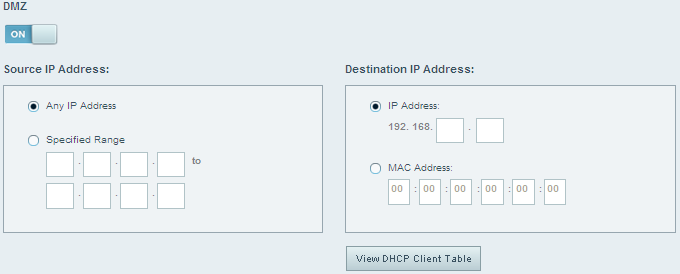 SNELLE TIP:  Deze functie wordt meestal niet gebruikt omdat deze aanzienlijke beveiligingsrisico's met zich meebrengt voor het apparaat dat u op de DMZ heeft ingesteld.  Het apparaat wordt niet beschermd door de ingebouwde firewalls, internetfilters of routerwebfilters.
De instellingen op het tabblad Apps and Gaming (Toepassingen en games) kunnen u helpen uw connectiviteit te optimaliseren zonder het risico te lopen volledig kwetsbaar te zijn.  Deze speciale functies worden over het algemeen gebruikt bij toegang op afstand tot uw gegevens of het toestaan ​​van communicatie in privé-netwerken.
DDNS – Met de functie Dynamic Domain Name System (DDNS) kunt u een domeinnaam voor uw thuisnetwerk configureren, die u vervolgens kunt gebruiken om uw netwerk gemakkelijk op internet te vinden.  Dit is handig als u op afstand via internet toegang wilt krijgen tot een USB-schijf of webcamera.

Single Port Forwarding (Doorsturen één poort) – Met deze functie wordt inkomend verkeer van internet op een specifieke poort naar één apparaat in uw lokale netwerk doorgestuurd.
​

Port Range Forwarding (Doorsturen poortbereik) – Met deze functie wordt inkomend verkeer van internet via een reeks poorten naar een specifiek apparaat in uw lokale netwerk doorgestuurd.  Sommige toepassingen kunnen een reeks poorten gebruiken zodat, als een poort bezig is, het signaal kan worden doorgestuurd om te proberen naar een andere poort te gaan.
​

Port Range Triggering (Trigger poortbereik) – Met deze functie kan de router uitgaande gegevens bekijken voor specifieke poortnummers.  Het IP-adres van de computer die de bijbehorende gegevens verzendt, wordt door de router onthouden, zodat wanneer de gevraagde gegevens via de router terugkeren, de gegevens worden teruggeleid naar de juiste computer.  Dit is handig wanneer u een USB- of Bluetooth-headset gebruikt voor online chatten en gamen.
​