Domain Name System (DNS) is een Internet service die domainnamen naar IP-adressen vertaalt. Bijvoorbeeld, het domainnaam www.linksys.com wordt zal een DNS server adres heeft dat gelijk is aan 66.161.11.93.

Het controleren van de DNS is nuttig voor:
Het toewijzen van een statisch IP-adres aan de computer

Internetconnectiviteit controleren

Uw gaming console (Xbox® of PlayStation®3) installeren

Een router met een Statisch IP-account instellen
Het verkrijgen van de DNS Servers vanuit een Linksys Smart Wi-Fi router

Voor het verifiëren van DNS servers vanuit een Linksys Smart Wi-Fi router, volg de onderstaande stappen:

Stap 1:
Ga naar uw Linksys cloud account. Voor instructies klik hier.

Stap 2:
Klik op Troubleshooting (Probleemoplossing).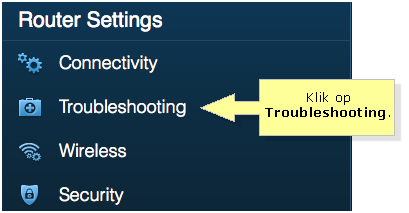 Stap 3:
Klik op Status > Reports. Neem kennis van DNS 1, 2 en/of 3 onder Internet Connection (IPv4). Dit zijn de DNS server adressen die de router ontvangt van de modem. Om te verifiëren of de DNS server adressen die verschijnen op uw router geldig zijn, neem contact op met uw Internet Service Provider (ISP).

SNELLE TIP: Het verkrijgen van een geldige DNS is één van de manieren om te controleren of uw Internet-verbinding werkt.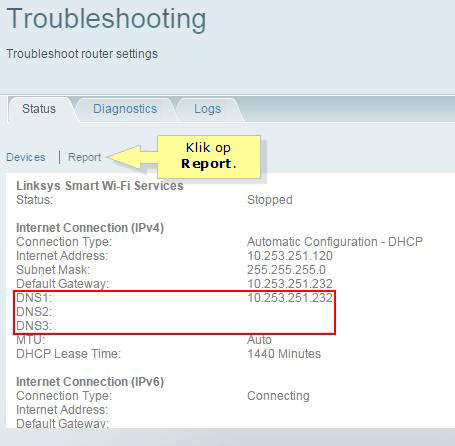 U kunt nu de DNS-server adressen gebruiken om ofwel een statisch IP-adres op uw computer in te stellen of de instellingen van uw gaming console te configureren.

OPMERKING: Als u een Statisch IP account heeft, uw IP-adres, Subnet mask, Default gateway en DNS waarde zullen worden verstrekt door de ISP. Voor instructies over het instellen van de router met behulp van deze verbindingstype klik hier. 


Gerelateerde artikel:

Hoe DHCP Reservation (Reservering) configureren met Linksys cloud account