FTP (File Transfer Protocol) is een standaardprotocol dat wordt gebruikt voor bestandsoverdracht via een TCP/IP-netwerk en internet.  Als deze functie is ingeschakeld, kunt u buiten uw netwerk toegang tot de bestanden in uw USB-opslag verkrijgen.  De functie USB Storage (USB-opslag) op de Linksys Smart Wi-Fi biedt u toegang tot uw bestanden via FTP.  Volg deze instructies om deze functie in te schakelen via Linksys cloud account.

Waarvoor heb ik deze functie nodig?
 
Het gebruik van FTP is een handige manier om toegang te krijgen tot uw bestanden, of dit nu document- of mediabestanden zijn, wanneer u zich buiten uw thuisnetwerk bevindt.  U hoeft deze functie alleen maar in te schakelen op uw Linksys Smart Wi-Fi router en u heeft ongeacht uw locatie toegang tot uw bestanden, zolang u bent verbonden met internet.
Stap 1:
Stap 2:
Op de startpagina van Linksys cloud account klik op External Storage (Externe opslag) op de meest recente Linksys Smart Wi-Fi routers.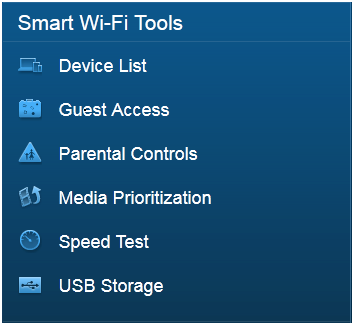 Stap 3:
Klik op het tabblad FTP Server.
 


Stap 4:
Stel Enable FTP Server (FTP-server inschakelen) in op ON (AAN).

OPMERKING:  Om de Enable FTP Server functie uit te schakelen, schuif de knop naar OFF (UIT).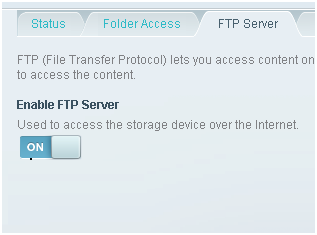 BELANGRIJK:  Voordat u de USB Storage aangesloten op uw Linksys Smart Wi-Fi Router kunt openen, zorg ervoor dat de Folder Access instellingen van uw router zijn geconfigureerd om met succes bestanden in uw netwerk te delen.  Voor instructies over hoe u de Folder Access instellingen op uw Linksys cloud account kunt configureren, klik 

hier

.

En verder?
Na het configureren van de 
Folder Access
instellingen op uw 
Linksys Smart Wi-Fi router bent u nu gereed om de USB Storage op uw apparaat te openen.

Stap 1:
Op de Status tab, neem kennis van de waarde gevonden in het veld FTP server.  Het bevat het IP-adres van het apparaat.
 

Stap 2: 
Open een Internet browser en voer in de FTP URL in de adresbalk. 
 
OPMERKING:  Wanneer u toegang wilt krijgen tot FTP, gebruik een computer die niet is verbonden met hetzelfde netwerk.
Met behulp van FTP, kunt u nu toegang krijgen tot de USB-opslag van uw browser.