Met de Wireless Scheduler-functie die beschikbaar op sommige Linksys Smart Wi-Fi routers kunt u de draadloze netwerken op gekozen tijden UIT of AAN zetten, inclusief de Gast netwerken.

In dit artikel krijgt u instructies over het configureren van de Wireless Scheduler functie.
Stap 1:
Log in op de Linksys Smart Wi-Fi Account.  Voor instructies klik

hier

.



Stap 2:


Klik op Wireless (Draadloos).
Stap 3:


Klik op de sub-tab Wireless Scheduler.
Stap 4:


Schakel de toegang tot uw draadloos netwerk AAN of UIT door te klikken op het vak(ken) in de kalender.  Witte vakken geven aan dat het draadloos netwerk AAN staat.  De blauwe vakken, daarentegen, geven aan dat het draadloos netwerk UIT staat.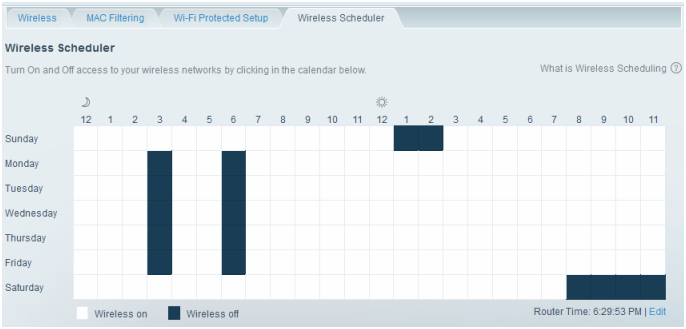 SNELLE TIP:  Zorg ervoor dat de tijdzone op uw router correct is geconfigureerd zodat de Wireless Scheduler volgens uw gekozen tijdsintervallen kan functioneren.  Rechts onderaan ziet u de huidige tijd van de router, indien nodig klikt u op de Edit (Bewerken) knop om de tijd van uw router aan te passen.
Stap 5:


Klik op 

 om de instellingen op te slaan.