De 802.11ac draadloze technologie is de 5e generatie Wi-Fi-standaard ontworpen om te voldoen aan de toenemende vraag van bandbreedte-intensieve toepassingen en activiteiten zoals high definition streaming.  Met Very High Throughput (VHT) (Zeer hoge doorstroom) kan deze standaard een snelheid tot 1 Gigabit per seconde bereiken.
 
De 802.11ac draadloze technologie is beschikbaar voor Linksys Smart Wi-Fi Routers en functioneert alleen via een 5 GHz band.  Het is ook achterwaarts compatibel met alle 802.11a en 802.11n cliënten.
 
BELANGRIJK:  Oudere apparaten zijn mogelijk niet geschikt om een netwerk van 5 GHz te detecteren en te aansluiten.  Heeft u een netwerkomgeving waar er apparaten zijn die geen ondersteuning voor 5 GHz bieden, wordt u geadviseerd de 2,4 GHz-netwerk ingeschakeld te laten.
 
Om te weten hoe u uw Linksys Smart Wi-Fi Router naar de Wireless-AC only netwerkmodus kunt omzetten, volg onderstaande stappen:
 
Stap 1:
Open een webbrowser en open uw Linksys Smart Wi-Fi Account door "192.168.1.1" of "myrouter.local" in de adresbalk in te voeren en op [Enter] te drukken.  Wanneer de Linksys Smart Wi-Fi Account pagina verschijnt, voert u uw E-mailadres en Wachtwoord in en klikt u op Log in (Aanmelden).
 
OPMERKING:  Het instellen van uw Linksys Smart Wi-Fi Router naar Wireless-AC only kan lokaal gedaan worden of met behulp van uw Linksys Smart Wi-Fi Account. 
Stap 2:
Klik op Wireless (Draadloos) onder de Router Settings (Routerinstellingen).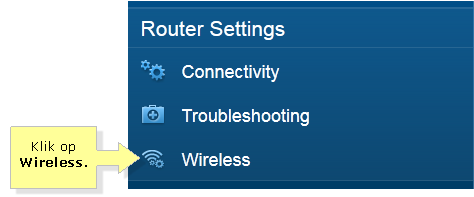 Stap 3:
Klik op Edit (Bewerken) naast 5.0 GHz Netwerk.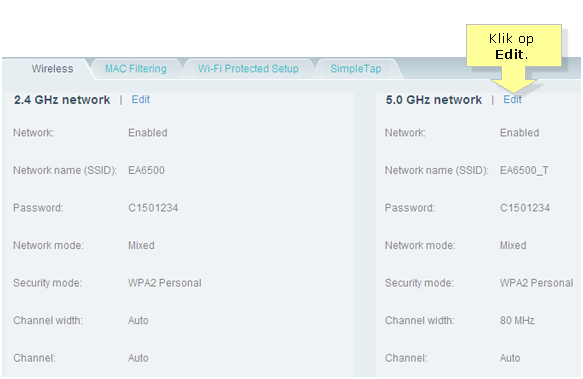 Stap 4:
Klik op het Network Mode (Netwerkmodus) keuzemenu en selecteer Wireless-AC Only.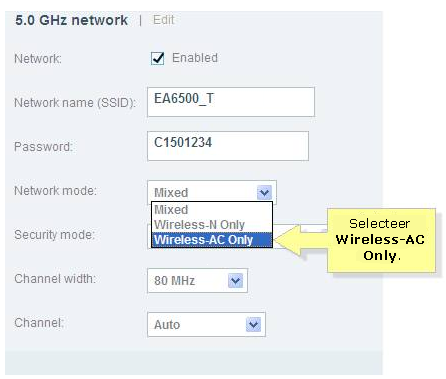 Stap 5:
Klik op

 of

 om de veranderingen op te slaan.
 
Stap 6:
Er verschijnt een waarschuwingsbericht op het scherm waarin wordt aangegeven dat de veranderingen in het draadloze netwerk ervoor kunnen zorgen dat de verbinding van draadloze apparaten met het netwerk wordt verbroken.  Zorg ervoor dat er geen draadloze apparaten verbonden zijn met het netwerk voor u op Yes (Ja) klikt.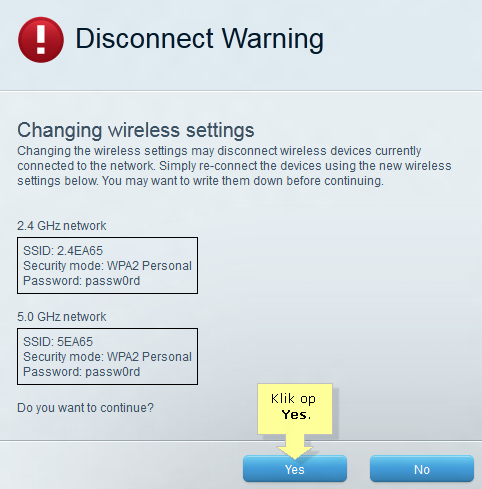 Stap 7:
Er verschijnt een ander scherm waarin wordt gezegd dat de veranderingen zijn toegepast.  Klik op OK om terug te gaan naar de hoofdpagina.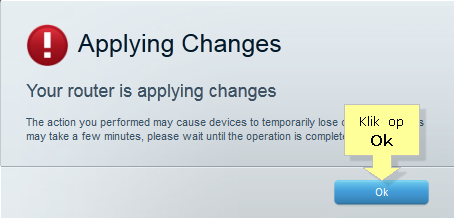 Wanneer u de Linksys Smart Wi-Fi Router netwerkmodus ingesteld heeft op Wireless-AC Only dan kunt u genieten van multiple HD video streaming en andere bandbreedte-actieve activiteiten en toepassingen.  Deze voordelen gelden ook voor smartphones en tablets.
 
SNELLE TIP:  De prestatiesnelheid wordt beinvloed door meerdere factoren.  Het wordt aangeraden de draadloze kanaalbreedte en kanaal aan te passen voor iedere frequentie om interferentie te voorkomen.  Voor meer informatie, klik hier.
 
Gerelateerde artikel:
 
Wireless-AC en de Linksys EA6500 router (Video)