De DHCP-clienttabel bevat informatie over de bekabelde of draadloze apparaten die zijn aangesloten op de router. Deze toont de naam van het apparaat, de interface waarop deze is aangesloten, de periode totdat de aansluiting is verstreken en de toegewezen IP- en MAC-adressen.
 
SNELLE TIP: Apparaten die NIET met het bekabelde of draadloze netwerk zijn verbonden, worden niet gedetecteerd door de DHCP Client-tabel.
 
Voer de volgende stappen uit om toegang te krijgen tot de DHCP-clienttabel via uw Linksys cloud account:
Stap 1:
Open uw Linksys cloud account. Start een web browser en voer het IP-adres van de router of "myrouter.local" in de adresbalk in en druk op [Enter].
OPMERKING: Het standaard-IP-adres van de router is 192.168.1.1. Als dit niet werkt of als het IP-adres is gewijzigd, controleert u het IP-adres van uw Linksys-router. 
Om toegang te krijgen tot uw Linksys cloud account voer in plaats van het IP-adres van de router

https://linksyssmartwifi.com

in uw webbrowser in.
Stap 2:
Voer uw Email Address (E-mailadres) en Password (Wachtwoord) in en klik op Log in (Inloggen).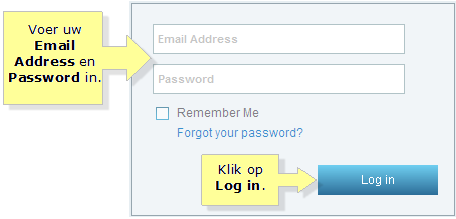 OPMERKING: Als u nog steeds geen account heeft aangemaakt, geactiveerd of gekoppeld aan uw router, klik dan

hier

voor instructies. Voor lokale toegang tot uw Linksys cloud account (router is niet aangesloten op internet) voert u uw Router password (Wachtwoord van de router) in, in plaats van uw aanmeldgegevens. Voor meer informatie klikt u

hier

.
Stap 3:
Zodra de startpagina van uw Linksys cloud account verschijnt, klikt u op het hulpprogramma Troubleshooting (Probleemoplossing) in het linkernavigatievenster onder Router Settings (Routerinstellingen).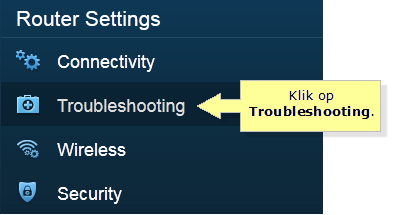 Stap 4:
Klik onder het tabblad Status op de pagina Troubleshooting (Probleemoplossing) op de knop 

 in de hoek rechtsonder op de pagina.
De DHCP-clienttabel verschijnt nu en toont een lijst met apparaten met de overeenkomstige IP- en MAC-adressen.