De Guest Access (Gastentoegang) functie biedt u de mogelijkheid om een apart Wi-Fi voor uw gasten te creëren zonder dat zij toegang krijgen tot uw hoofdnetwerk en de aangelsoten computers.

Na het uitvoeren van de Smart Setup de Guest Access (Gastentoegang) functie is automatisch IN geschakeld.  Een Guest network (Gastnetwerk) wordt automatisch gecreëerd op de 2.4 GHz band van de router.  De nieuwste Dual-Band en Tri-Band routers ondersteunen ook Guest networks (Gastnetwerken) voor zowel de 2.4 GHz en 5 GHz banden.  Zorg ervoor dat u dit onthoud als u een ander netwerk apparaat (zoals als een extender) aansluit.  Het moet worden geconfigureerd om het hoodfnetwerk te gebruiken en niet het Guest network (Gastenwerk).  Echter als u wenst uw Guest network (Gastnetwerk) uit te breiden, houd er rekening mee dat elke client die aangesloten is op de extender geen toegang heeft tot het netwerk maar alleen tot het Internet.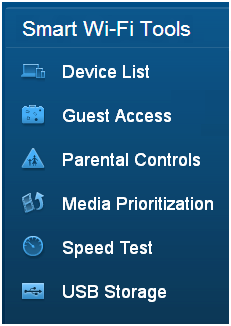 De Guest Access Settings (Gasttoegang instellingen) in de webinterface kunnen verschillen, afhankelijk van het model van uw router.  Zie onderstaande afbeeldingen voor vergelijking.
Routers die één (1) Guest network op de 2.4 GHz ondersteund​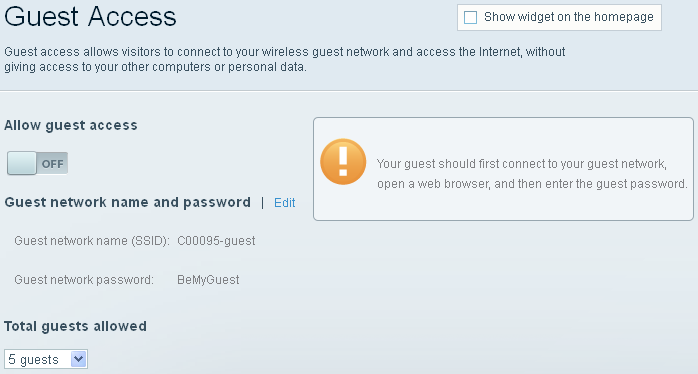 Dual-band of Tri-band routers die dual-band Gast netwerken ondersteunen. ​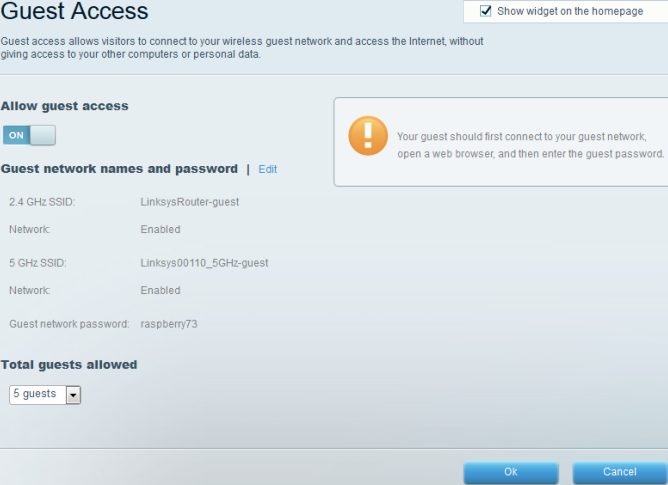 Het Guest network (Gastnetwerk) beheren 

Als u Smart Setup omzeilt, deze functie is UIT geschakeld totdat u deze handmatig inschakelt.  Deze optie beschrijft hoe u uw Guest Access (Gast toegang) handmatig kunt doen.
Open de Linksys cloud account van de router met de behulp van een web browser of Linsys app.  Voor instructies klik

 

hier

.



Stap 2:


Klik in het navigatievenster aan de linkerkant op Guest Access (Gasttoegang).
Stap 3:
Verschuif de knop naar ON (AAN) om de

Guest Access

 (Gasttoegang) functie in te stellen.
Stap 4:
Klik op 

Edit (Bewerken)

.
Stap 5:
Vul in de velden uw gewenste naamen wachtwoord van het Gast netwerk.
OPMERKING:  U kunt maximaal 50 gasten tegelijk aansluiten.
Stap 6:
Klik 
 om de instellingen op te slaan.