De Linksys dual-band routers zijn geschikt voor het verzenden en ontvangen van gegevens met behulp van zowel 2,4 GHz als 5 GHz frequenties, hetzij tegelijk of een op een tijdstip.  De 2,4 en 5 GHz Wi-Fi signaal ranges zijn verdeeld in enkele kleinere bands, zogenaamde draadloze kanalen.  Elk van deze draadloze kanalen zet zich over naar een specifieke frequentie van de radio (kanaal 6, bijvoorbeeld, is 2437 GHz).

Het wordt aanbevolen het draadloze kanaal van uw router te wijzigen als de apparaten interferentie ondervinden in het draadloze netwerk.  Interferentie is één van de meest voorkomende problemen die uw thuisnetwerk kan ondervinden.  Problemen met de verbinding kunnen veroorzaakt worden door:
Elektronische apparaten in uw huis (draadloze telefoons, luidsprekers en magnetrons)

Draadloze netwerken in de buurt

Fysieke obstakels (wanden, spiegels of glas)

Afstand of locatie 
Deze factoren kunnen de prestaties van uw netwerk verminderen.  Het veranderen van kanalen is één van de beste manieren om intermitterende signaal op te lossen en om uw draadloze verbinding te optimaliseren.  Klik

hier

voor meer informatie.  Als u een Linksys Smart Wi-Fi Router gebruikt klik

hier

.

De informatie hieronder zal u verder uitleggen en uw Linksys dual-band router onderscheiden van de draadloze kanalen.
De 2.4 GHz Band
De 2.4 GHz band heeft 11 beschikbare kanalen die .005 GHz van elkaar af staan met een kanaalbreedte van 20 MHz.  Dit betekent dat wanneer uw draadloze apparaat ingesteld staat op kanaal 6, u de frequenties gebruikt van de kanalen 5 en 7 en de helft van 4 en 8.  Het is het beste uw netwerk op een afstand van op zijn minst 5 kanalen (25 MHz) van anderen te hebben, om het overlappen van frequenties te voorkomen.  Verschillende maar aangrenzende kanalen (zoals 1, 2 en 3) gebruiken hetzelfde spectrum en zullen met elkaar interfereren.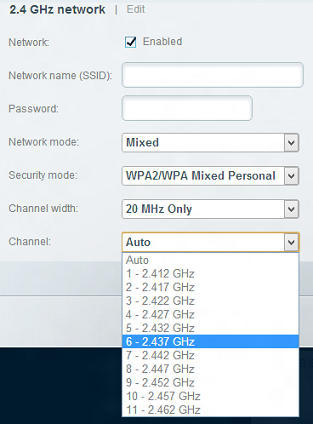 De 2.4 GHz band heeft drie (3) niet-overlappende kanalen: 1, 6 en 11.  Het meest gebruikte kanaal is 6.  Als u interferentie ondervindt op dit kanaal, schakel dan over naar kanaal 1 of 11.  Als de interferentie aanhoudt, schakel dan over naar andere kanalen.  Kijk naar onderstaande afbeelding voor een visuele weergave: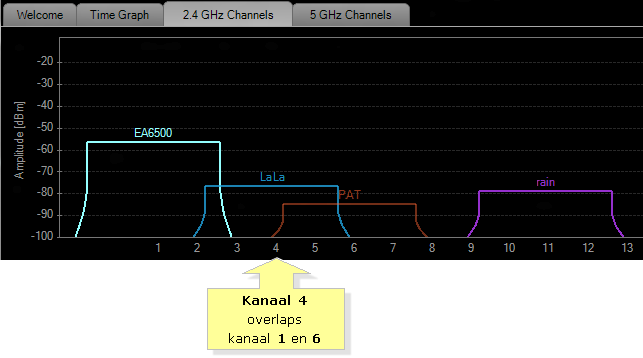 In dit voorbeeld zijn vier (4) draadloze netwerken, namelijk EA6500, LaLa, PAT en rain. Elk netwerk is ingesteld op een ander draadloos kanaal voor presentatiedoeleinden.  Hieronder zijn de details: 
EA6500 wordt uitgezonden op Kanaal 1
LaLa wordt uitgezonden op Kanaal 4
PAT wordt uitgezonden op Kanaal 6
rain wordt uitgezonden op Kanaal 11 
Omdat EA6500, PAT en rain 5 kanalen van elkaar verwijderd zijn, overlappen hun signalen niet.  Maar ondanks dat LaLa zich op een ander niet aangrenzend kanaal bevindt, interfereert het wel met EA6500 en PAT.
De 5 GHz Band
Op de mindergebruikte 5 GHz band is het eenvoudiger overlapping te voorkomen.  Er zijn relatief weinig apparaten beschikbaar die gebruik maken van deze band en het bestaat uit 23 niet-overlappende kanalen, waardoor er niet snel interferentie plaatsvindt.  De kanalen bevinden zich op een afstand van 20 MHz van elkaar, waardoor er meer bandbreedte beschikbaar is.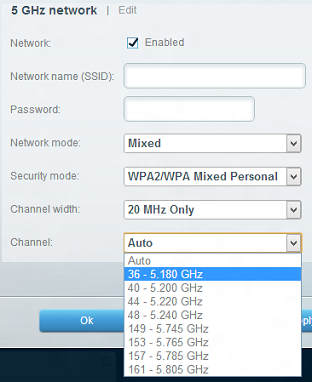 Het wordt aanbevolen de 2.4 GHz band te selecteren voor eenvoudig browsen en e-mail.  Voor media-streaming en andere zware prestatie-activiteiten zoals gaming en Voice over Internet phone (VoIP) kunt u beter de mindergebruikte 5 GHz band gebruiken.
SNELLE TIP:  Met de toename van de frequentie neemt het bereik af en daarom is de 5 GHz band ideaal voor thuisnetwerken waar de apparaten niet ver van elkaar staan.  Voor een netwerk dat een groter bereik vereist, selecteer de 2.4 GHz band.
Verschillende apparaten die u kunt gebruiken om uw netwerk uit te breiden
Als u nog steeds problemen ondervindt na het wijzigen van het draadloze kanaal, moet u mogelijk een ander apparaat aan uw thuisnetwerk toevoegen, zoals een switch of range extender.  Op deze manier kunt u meer apparaten aansluiten op het netwerk en het draadloze netwerk bereik uitbreiden.  Voor meer informatie klik

hier

.  Ook voor het verkrijgen van de meest recente netwerking producten uit de Linksys Store, klik

hier

.


Gerelateerde artikel:



De naam van het draadloos netwerk en wachtwoord controleren