De Speed Test functie op de Linksys cloud account stelt u in staat om de huidge download en upload snelheid van uw internetverbinding te controleren.

Hier is een beknopte informatie over het verschil in waarden van uw download en upload snelheid:
 
Download Speed – Dit heeft betrekking op hoe snel de gegevens van websites wordt overgebracht naar uw computer.
Upload Speed – De snelheid van gegevensoverdracht van uw computer naar het Internet.
Volg onderstaande stappen om te leren hoe u een snelheidstest uitvoert op uw netwerk.

SNELLE TIP: Factoren zoals het aantal apparaten dat tegelijkertijd met uw netwerk is verbonden, alsmede het aantal actieve toepassingen en activiteiten die een grote bandbreedte vereisen zoals videostreaming en VoIP (Voice over Internet Phone), kunnen invloed op de upload- en downloadsnelheid van uw Internetverbinding hebben.
Stap 1:
Ga naar uw Linksys cloud account. Klik
hier
voor instructies.
Stap 2:
Klik op Speed Test (Snelheidstest).
Stap 3:
Klik op Begin Test (Test starten).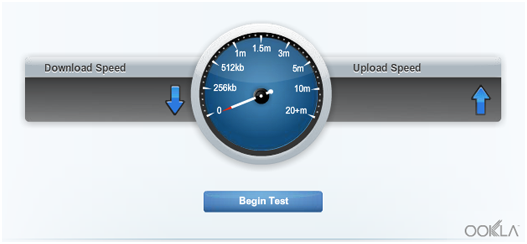 OPMERKING: In het gebied met de pijl omlaag wordt de download speed weergegeven terwijl in het gebied met de pijl omhoog uw huidige upload speed wordt weergegeven.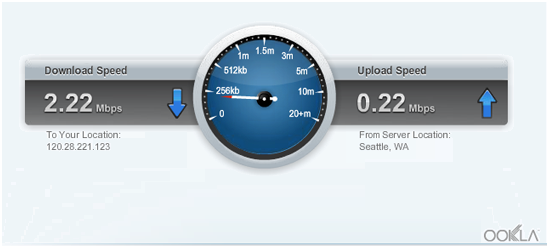 De snelheidstest begint direct Wanneer de snelheidstest is voltooid, kunt u op Restart Test (Test opnieuw starten) klikken om een nieuwe snelheidstest sessie te starten.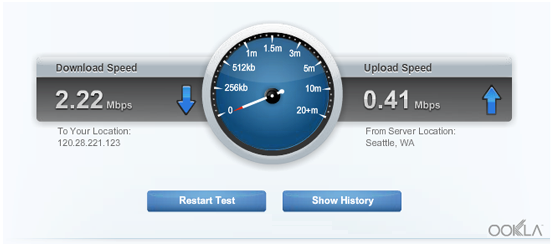 U kunt ook op de knop Show History (Geschiedenis tonen) klikken om de resultaten van uw vorige snelheidstest sessies te bekijken en deze met de huidige resultaten te vergelijken.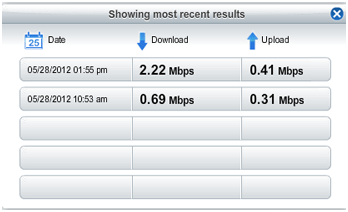 In het geval u problemen ondervindt tijdens het uitvoeren van een snelheidstest met behulp van uw Linksys cloud account , kunt u de onderstaande stappen proberen:
 
Sluit en heropen de Linksys cloud account en voer de test nogmaals uit.

Schakel tijdelijk elke beveiliging op uw computer uit zoals uw anti-virus of Windows® Firewall, en voer de test nogmaals uit. Nadat de test is voltooid, kunt u ze weer inschakelen.

Gebruik een andere computer die ook is aangesloten op uw netwerk en voer de snelheidstest uit met behulp van uw Linksys cloud account.

Zorg ervoor dat u Adobe® Flash® Player 8.0 of hoger gebruikt.

Controleer of u een actieve internetverbinding heeft.
Uw netwerk uitbreiden
U kunt ook het bereik van uw netwerk uitbreiden, vooral in situaties waarin u dit moet doen. Door simpelweg extra apparaten aan te sluiten, kunt u uw draadloze signaal nu uitbreiden om de moeilijk bereikbare gebieden thuis te huisvesten en zelfs om meer apparaten (zowel bekabeld als draadloos) aan te sluiten voor gaming of entertainment. Klik op onderstaande links om meer te weten over deze nieuwe producten.