Een ping-test helpt bij het traceren van de communicatie tussen de computer of de router naar websites of apparaten die op het netwerk zijn aangesloten.  De opdracht Ping kan ook worden gebruikt voor probleemoplossing om de connectiviteit te testen en de responstijd te meten.
 
In dit artikel worden de stappen beschreven om een ping-test uit te voeren via Linksys cloud account.  Volg de onderstaande stappen voor meer informatie.
Stap 1:
Open een webbrowser en ga naar uw Linksys cloud account.  Voor meer informatie klikt u

hier

.
Stap 2:
Klik in het navigatievenster onder Router Settings (Router instellingen) op Troubleshooting (Problemen oplossen).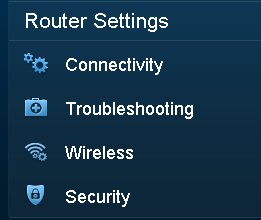 Stap 3:
Klik op Diagnostics (Diagnose).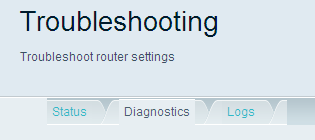 Stap 4:
Voer het IP of hostnaam van de website of apparaten in die u wilt testen en vul het veld Number to ping (Te pingen adres) in.  Klik op de knop
om de test uit te voeren.

SNELLE TIP:  Number to ping (Te pingen adres) is het aantal keren dat uw computer probeert een antwoord van een website of specifiekapparaat te ontvangen.  U kunt instellen hoe vaak u de pingtest wilt uitvoeren (5, 10, 15 keer of Unlimited (Onbeperkt)).  Deze optie is standaard ingesteld op 5.
OPMERKING:  De website yahoo.com wordt hier als voorbeeld gebruikt.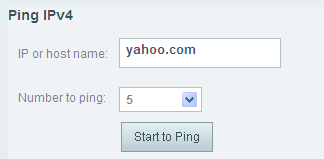 Het volgende venster verschijnt met de resultaten van de pingtest.
OPMERKING:  Als al de 5 verzonden pakketten zijn ontvangen, werkt de verbinding goed.  Verloren pakketten kunnen wijzen op verbindingsproblemen.  Als er geen pakketten zijn ontvangen, wordt Destination Host unreachable (Doelhost onbereikbaar
) of Request Timed Out (Time-out bij verzoek) weergegeven.  Dit kan wijzen op onjuiste routering van uw verbinding.  Voor meer informatie over de algemene ping resultaten klikt u

hier

.
Uw netwerk uitbreiden

U kunt het bereik van uw Wi-Fi uitbreiden door andere netwerkapparaten van Linksys te gebruiken, zoals switches, powerline-adapters, draadloze bridges en range-extenders.  Voor meer informatie klik

hier

.