Met de Parental Controls functie (Ouderlijk toezicht) in Linksys cloud account kunt u de toegang tot internet beperken voor gebruikers in uw netwerk. Met deze functie kunt u bepalen welke van uw kindergadgets op bepaalde tijden toegang hebben tot internet.
 
In dit artikel wordt beschreven hoe u de internettoegang op specifieke tijden in uw netwerk beperkt met behulp van de Linksys cloud account.  
 
OPMERKING: Als u intertoegang op specieke apparaten wilt beperken met behulp van uw Linksys cloud account, klik 
hier
.
Stap 1:
Ga naar uw Linksys cloud account. Klik
hier
voor instructies.
 
Stap 2:
Klik op Parental Controls (Ouderlijk toezicht) in het linkervenster.

 
Stap 3:
Zet de schuifschakelaar in de AAN-positie en selecteer vervolgens het apparaat waarvan u de toegang wilt beperken in de lijst Restrict Internet access on (Internettoegang beperken op).
 
 
OPMERKING: Zorg ervoor dat de functie Parental Controls (Ouderlijk toezicht) ingeschakeld is. Als deze functie uitgeschakeld is, wordt de lijst met apparaten grijs weergegeven.
 
Stap 4:
Selecteer Specific Times (Specifieke tijden) in het veld Block Internet access (Internettoegang blokkeren) en klik op Edit (Bewerken).
OPMERKING: Deze optie is niet beschikbaar als u het bekijkt op een mobiel apparaten via de Linksys App. De App stelt u alleen in staat om internettoegang te blokkeren door Never (Nooit) of Always (Altijd) in te stellen en door het invoeren van Specific Sites (Specifieke pagina's).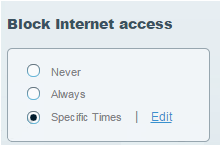 Stap 5:
Klik op een blok of meerdere blokken die staan voor een tijd op de dag waarop u de toegang tot internet wilt beperken.
 
SNELLE TIP: Als u meerdere rijen of kolommen met blokken wilt selecteren, houdt u de linkermuisknop ingedrukt en sleept u de muisaanwijzer omhoog en omlaag of naar links en naar rechts. U krijgt een rood streepje te zien bij het slepen met uw muis om meerdere vakken te selecteren, maar zal worden vervangen door grijze vierkanten zodra u stopt met het ingedrukt houden van de muis.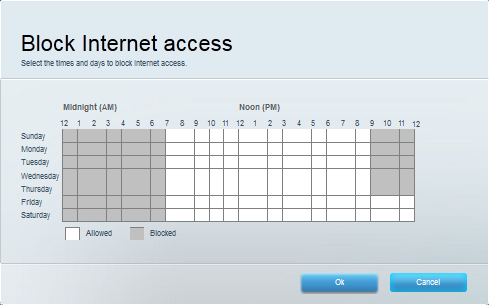 OPMERKING: Grijze blokken verwijzen naar tijden waarop de internettoegang is beperkt.
 
Stap 6:
Eenmaal gedaan, klik op Ok om de tijden en dagen die u wilt dat de toegang tot internet te blokkeren in te stellen.
 
Stap 7: 
Klik op Ok aan de onderkant van de Parental Controls (Ouderlijk toezicht) venster om de wijzigingen op te slaan.
 
U heeft nu met succes de beperkingen voor internettoegang op specifieke tijden ingesteld op uw router. Het apparaat dat u geselecteerd voor deze beperking wordt nu vermeld op de Parental Controls (Ouderlijk toezicht) widget van uw Linksys cloud account.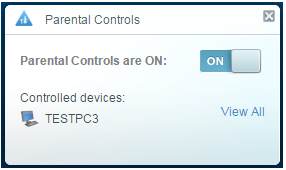 Uw netwerk beveiligen
Naast het inschakelen van de functie Parental Controls (Ouderlijk toezicht) van uw Linksys Smart Wi-Fi router, kunt u ook internettoegang beheren voor gasten of tijdelijke bezoekers van uw huis met de functie Guest Access (Gasttoegang) van Linksys cloud account. Klik op de volgende link voor meer informatie.