De Linksys RE7000 Max-Stream™ AC1900 + Wi-Fi Extender met 802.11ac-technologie kan uw WiFi gemakkelijk uitbreiden naar moeilijk bereikbare locaties in uw huis, zoals uw achtertuin, garage of slaapkamer, zodat u WiFi kunt krijgen op smartphones, tablets en laptops.
Voorkant
Zijkant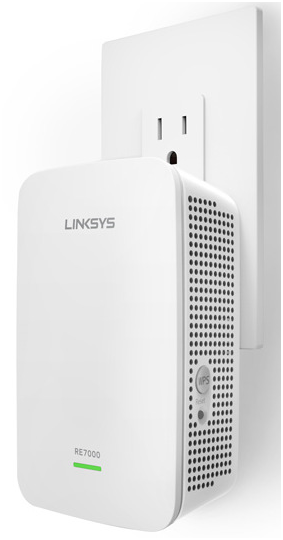 Productkenmerken
N300+AC1733 Mbps met dual-band

Eenvoudige installatie met Spot Finder

4x4 MU-MIMO

Eén gigabit Ethernet-poort

Beamforming technologie

Cross-Band technologie

Verbindingsknop

Accesspoint-modus

Naadloos roamen

Vergroot het WiFi-bereik tot 2,500 sq ft
Hardware
Wi-Fi Protected Setup™ (WPS)-knop - Gebruik de WPS-technologie om automatisch en veilig draadloze apparaten aan uw netwerk toe te voegen.

Reset-knop - Houd 10 seconden ingedrukt om de range extender te resetten naar de fabrieksinstellingen.

Ethernet-poort - Deze gigabit ethernet-poort wordt gebruikt om bekalbelde cliënten zoals computers of mediaservers aan te sluiten wanneer de Linksys RE7000 in Range Extender-modus is of om verbinding te maken met een router in de Accesspoint-modus.
Systeemvereisten
Bestaande wireless router of accesspoint

Ethernetkabel als u de Linksys RE7000 in Accesspoint-modus gebruikt

Een computer of tablet met WiFi-mogelijkheden

Voor browser configuratie:
Internet Explorer® 8 of hoger

Safari® 5.1 of hoger

Chrome™ 25.0 of hoger

Firefox® 20 of hoger
Voor meer informatie over het installeren van de Linksys RE7000, klik op de onderstaande links:



De Linksys RE7000 naar range-extender modus instellen




Uw Linksys range-extender naar Accesspoint-modus instellen