Internettoegang onderbreken is eenvoudig met de functie Parental Controls (Ouderlijk toezicht) in de Linksys-app.  Dit artikel geeft instructies over hoe u dat moet doen.

BELANGRIJK:  Voordat u begint, moet u ervoor zorgen dat u het dashboard al heeft geopend.  Klik
hier
voor instructies bij het gebruik van een Android™-apparaat.  Klik
hier
voor iOS.

Stap 1:
Op het Dashboard scherm ga naar Parental Controls (Ouderlijk toezicht).
 

OPMERKING:  Scroll voor iOS naar de onderkant van het scherm of tik op het menupictogram linksboven op het scherm om de functie te openen.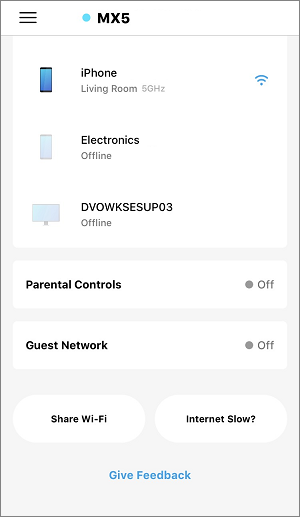 Stap 2:
Tik op Control a Device (Een apparaat beheren).

OPMERKING:  Dit scherm verschijnt alleen als u nog geen Parental Controls (Ouderlijk toezicht) heeft ingesteld op een apparaat.
 
Stap 3:
Selecteer een apparaat uit de lijst.
Stap 4:
Tik op Pause Internet Access (Internettoegang onderbreken) of de pauzeknop om de internetverbinding voor een specifiek apparaat te onderbreken.
Er verschijnt dan een rode balk die aangeeft dat Internet paused (Internet is onderbroken), wat aangeeft dat internettoegang is onderbroken voor dat specifieke apparaat.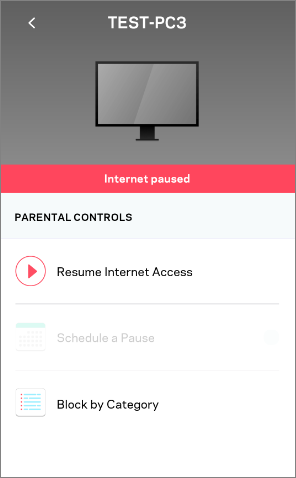 OPMERKING:  Om toegang te hervatten, tikt u op Resume Internet Access (Internettoegang hervatten) of op de play-knop.

Hieronder ziet u hoe het onderbroken apparaat wordt weergegeven op het scherm Parental Controls (Ouderlijk toezicht).
Zo verschijnt het onderbroken apparaat op het dashboard voor een Android-apparaat.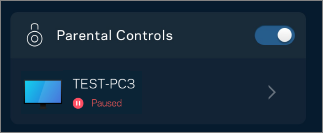 Voor iOS geeft het dashboard niet aan of het apparaat is onderbroken en wordt alleen het aantal apparaten weergegeven waarop Parental Controls (Ouderlijk toezicht) is geconfigureerd.
Om de status van de internetverbinding op het apparaat te controleren, opent u een nieuwe browser en probeert u verbinding te maken met internet.  Het mag geen internettoegang meer hebben.