De Linksys WRT32X AC3200 Dual-Band Wi-Fi-gamingrouter met Killer Prioritization Engine ondersteunt zowel handmatige als automatische update-functies bij het updaten van de firmware.  Volg de onderstaande stappen om te leren hoe u de firmware kunt controleren en actualiseren.
Stap 1:
Open de Linksys WRT32X web interface.  Voor instructies klik 
hier
.
Stap 2:
Aan de linkerzijde van het scherm klik op 
Router Administration 
(Router administratie).
Stap 3:
Scroll naar de sectie 
Firmware
.  Het zal automatisch controleren of er een firmware beschikbaar is.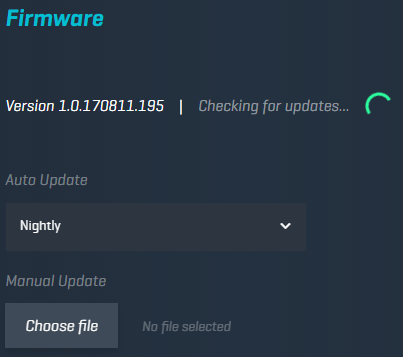 Up to date - Uw router heeft de nieuwste firmware geïnstalleerd.
Update now - Als er een nieuwe firmware beschikbaar is voor download, wordt

 weergegeven​.  Klik op Update Now (Nu actualiseren) om de firmware te actualiseren.

OPMERKING:  Klik op Release Notes om de huidige Release Notes (Release informatie) te bekijken.
Handmatige Firmware Actualisatie

Selecteer Manual Update (Handmatige update) als u handmatige firmware-updates wilt uitvoeren.  Zorg ervoor dat u de geactualiseerde firmware van uw Linksys WRT32X downloadt.  Klik

hier

voor Hong Kong om de firmware te downloaden of de release-opmerkingen te lezen.  Voor andere regio's behalve Hong Kong, klik

hier

.
Stap 1:


Klik op Choose File (Kies bastand).



Stap 2:


Selecteer het firmware bestand die u heeft gedownload.



Stap 3:


Klik op Upload om met het proces te beginnen.
Stap 4:


Nadat het bestand is verwerkt, klik Install (Installeren).
Stap 5:


Klik op Yes (Ja) om door te gaan met de installatie.
Stap 6:


Zodra de actualisatie voltooid is klik op Okay.

U moet nu met succes de firmware van uw Linksys WRT32X hebben geactualiseerd.