Scenario:

Ik heb een reset uitgevoerd op mijn Linksys Smart Wi-Fi Router en nu wil ik het handmatig opnieuw configureren door de Smart Setup Wizard te omzeilen.

Oplossing:
Volg de onderstaande stappen om de Smart Setup Wizard van uw Linksys Smart Wi-Fi Router te omzeilen na het opnieuw instellen:

OPMERKING:  De Linksys EA9300 wordt als voorbeeld gebruikt.
Stap 1:
Zorg ervoor dat de internetpoort van uw Linksys Smart Wi-Fi Router via een ethernetkabel op de modem is aangesloten.

Stap 2:
Verbind uw computer met de router met behulp van een andere ethernetkabel.

Stap 3:
Schakel de router in en wacht totdat de lampjes branden.

Stap 4:
Open een webbrowser en typ 'http://192.168.1.1' of 'http: //myrouter.local' in de adresbalk om de pagina Linksys Smart Wi-Fi Setup te bekijken.
Stap 5:
Vink het selectievakje I have read and accepted the License Terms for using this software (Ik heb de licentievoorwaarden voor het gebruik van deze softwarebox gelezen en geaccepteerd) en klik vervolgens op de Manual configuration (Handmatige configuratie) link.
Stap 6:
U ziet nu het  Linksys Smart Wi-Fi Sign In scherm.  Klik op de link voor lokale toegang.
Stap 7:
Voer "admin" in het veld Router Password (Router wachtwoord) en klik vervolgens op de Sign In (Aanmelden) knop.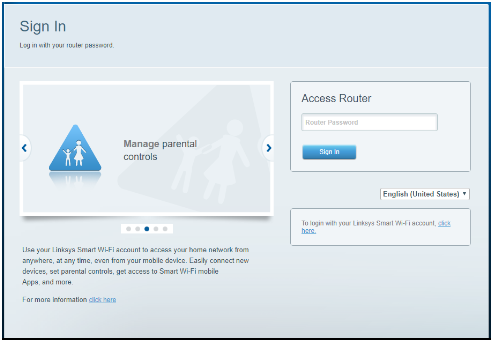 Eenmaal op de Linksys Smart Wi-Fi-pagina kunt u nu handmatig de verschillende instellingen van uw Linksys Smart Wi-Fi Router configureren.
 
Gerelateerde artikelen:
De basisinstellingen van de Linksys Smart Wi-Fi router controleren of wijzigen met behulp van de lokale toegangsinterface
Het wachtwoord van de router controleren en actualiseren via de Linksys cloud account
De Linksys Smart Wi-Fi Router instellen met behulp van Smart Setup Wizard