Als er tijdens de eerste installatie van uw Linksys Smart Wi-Fi Router met een kabelmodem een ​​foutbericht verschijnt met de melding Your router was not successfully setup (Uw router niet succesvol is ingesteld), volgt u de onderstaande stappen om het probleem op te lossen.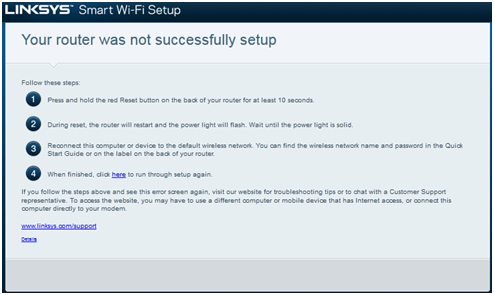 Stap 1:
Koppel uw Linksys Smart Wi-Fi Router los van de kabelmodem.
Stap 2:
Druk gedurende 30 seconden op de
 knop aan de achterkant van de router met een pen of paperclip.
Stap 3:
Sluit de computer opnieuw aan op de router, bekabeld of draadloos.
Stap 4:
Open de Smart Setup Wizard door een webbrowser te openen en typ "http://192.168.1.1" of "http: //myrouter.local".
Stap 5:
Begin met het uitvoeren van de Smart Setup Wizard van de router terwijl deze is losgekoppeld van de modem totdat het venster dat aangeeft dat Your Internet cable is not connected correctly (Uw internetkabel niet correct is aangesloten) verschijnt.
Stap 6:
Met behulp van een Ethernet-kabel, sluit de modem aan op de gele internetpoort van de router en klik op de
 (Volgende) knop.
Stap 7:
Voltooi het uitvoeren van de Smart Setup Wizard totdat u toegang heeft tot de Linksys Smart Wi-Fi Tools-pagina van de router.
U zou nu deze foutmelding met succes moeten hebben opgelost.
Het omzeilen van de Wizard Smart Setup na het uitvoeren van een reset op de Linksys Smart Wi-Fi Router