Het Linksys app-dashboard is de startpagina van uw router.  Hier ziet u de status van de internetverbinding en het aantal apparaten dat is aangesloten op de Linksys EA-serie routers.  Dit artikel laat zien hoe u toegang krijgt tot het Linksys app-dashboard met uw iOS-apparaat.

Zorg voordat u begint voor het volgende:
Een mobiel iOS-apparaat met de nieuwste versie van de Linksys-app
Stap 1:
Verbind uw iOS-apparaat met de WiFi van de router en start de Linksys-app.
Stap 2:
Tik op Manage Your Wi-Fi (Beheer uw WiFi).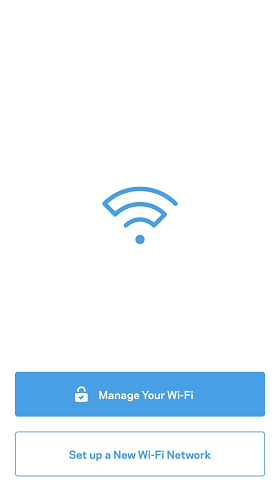 Stap 3:
Voer de gegevens van uw Linksys cloud account in of tik op Router Password (Routerwachtwoord) om u aan te melden via het beheerderswachtwoord van uw router.  Tik op Log in (Inloggen).
 

Als u geen Linksys cloud account heeft, tikt u op Create an account (Een account aanmaken).  Voer de vereiste gegevens in en tik op Create Account (Account aanmaken).
 
Als u meerdere netwerken heeft, selecteer dan een netwerk om door te gaan.
Als de router nog niet aan uw account is gekoppeld, wordt u gevraagd deze toe te voegen of in te stellen.  Volg de instructies op het scherm in de app om uw router aan het account te koppelen.
Stap 4:
Nadat u bent ingelogd, wordt u rechtstreeks naar het dashboard van de Linksys-app geleid.  Tik op het menupictogram linksboven op het dashboard om uw menuopties te zien.

Menu opties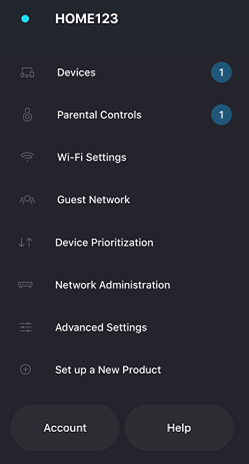 Uw WiFi-naam verschijnt bovenaan de menulijst.

In de sectie Devices (Apparaten) wordt het totale aantal verbonden clients weergegeven.  Klik

hier

 voor meer informatie.

In het gedeelte Parental Controls (Ouderlijk toezicht) wordt het totale aantal clients weergegeven waarop ouderlijk toezicht is geconfigureerd. 
Andere menu-opties zijn de volgende:
Netwerkbeheer

Geavanceerde instellingen
Als uw router in Bridge-modus staat, worden de volgende opties niet ondersteund en worden grijsweergegeven: Devices, Parental Controls en Device Prioritization (Apparaten, Ouderlijk toezicht en Apparaatprioritering).

Om bij de app af te melden, tikt u op Account > Log Out (Account > Uitloggen) als u ingelogd bent via de server.  Als u bent ingelogd met uw beheerderswachtwoord, tikt u op Log Out (Afmelden).