De Linksys N900 Dual-Band Smart Wi-Fi Router, EA4500 v3 is de nieuwste versie van EA4500. De EA4500 v3 beschikt over een simultane dual-band Wireless-N-router en een USB-opslaglink naast virtuele USB-ondersteuning voor USB-randapparatuur. De twee (2) radiobanden, 2,4 GHz en 5 GHz, die draadloos gelijktijdig werken en drie (3) ruimtelijke streams ondersteunen (3 TX en 3 RX).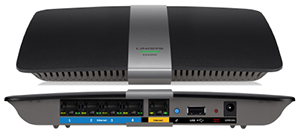 Belangrijkste functies
Smart Wi-Fi

IEEE 802.11 a/b/g/n

Gegevenssnelheid PHY-snelheid 450 Mbps (per band)

Dual-Band (2,4 GHz en 5 GHz)

3 x 3 MIMO

Gastnetwerk (elke band) – tot 50 gasten met standaard vijf (5).

4 x 10/100/1000 Mbps LAN-poorten

1 x 10/100/1000 Mbps WAN-poort

1 x USB 2.0-poort - virtueel afdrukken, DLNA-mediaserver, opslag
Productvereisten

Besturingssysteem (voor printerhulpprogramma)

Windows
Windows 10

Windows 8.1

Windows 8

Windows 7

Windows Vista met Service Pack 1 of later

Windows XP met Service Pack 3
Mac OS X®
Mavericks 10.9

Mountain Lion 10.8

Lion 10.7

Snow Leopard 10.6.1

Leopard 10.5.8 of later
Browser (voor Smart Setup en webinterfaceconfiguratie)
Internet Explorer 8 of hoger

Mozilla Firefox 8 of hoger

Google Chrome

Safari® 5 (voor Mac) of hoger
Instelling/webgebaseerde opstartpagina

De EA4500 v3 bevat de Smart Setup die vergelijkbaar is met Smart Wi-Fi-routers, maar er zijn twee (2) functies toegevoegd:
Clear Device List (Apparatenlijst wissen) knop – Wist alle apparaatinformatie en start de router opnieuw op. Als de apparatenlijst beschadigd is of overladen is met apparaten die er niet meer zijn, kunt u op deze knop klikken.
OPMERKING: Als u op deze knop klikt, wordt de router opnieuw opgestart en worden alle Wi-Fi-apparaten tijdelijk losgekoppeld.
Wireless Widget Toggle ON/OFF schuifknop – De schuifknop schakelt een radio voor elke band uit of in.
OPMERKING: U moet de Security mode (Beveiligingsmodus wijzigen) in WPA2 Personal als u alleen het Wireless-N-netwerk wilt gebruiken. Klik

hier

 voor de stappen om dit te doen.
Applicatie voor de mobiele telefoon

Alleen de Linksys Smart Wi-Fi App wordt ondersteund.

Firmware/Software

De firmware is beschikbaar via Auto-Update of via de

EA4500 v3's product pagina

. Er is geen desktop installatie-software, maar u kunt in plaats daarvan de Linksys Smart Wi-Fi mobiele app gebruiken.


RGerelateerde artikelen:



EA4500 v3 - Veelgestelde vragen




EA4500 v3 LED behavior




Productvergelijkingstabel tussen EA4500 v1 en EA4500 v3