One of the new features on your Linksys cloud account that is bundled with Linksys Smart Wi-Fi Router (EA6300, EA6400, EA6500 or EA6700) is SimpleTap™.  This connection feature provides an easier way to connect your Near Field Communication (NFC) compatible smartphone.  Use the SimpleTap™ card to connect your smartphone to the wireless network instead of remembering complicated wireless passwords and security keys.

NOTE:  To verify if your Android™ smartphones are NFC compatible, visit this link: http://www.nfcworld.com/nfc-phones-list
The following are instructions on how to connect your smartphone using SimpleTap™.
Step 1:
Enable the Wi-Fi feature on your smartphone.
Step 2:
Download and install the Linksys app to your NFC-compatible Android™ smartphone.  You can do this in two (2) ways:
Step 3:
Enable the SimpleTap™ connection feature on your Linksys cloud account.  For instructions on how to do this, click here.
Step 4:
Tap the SimpleTap™ card to your phone.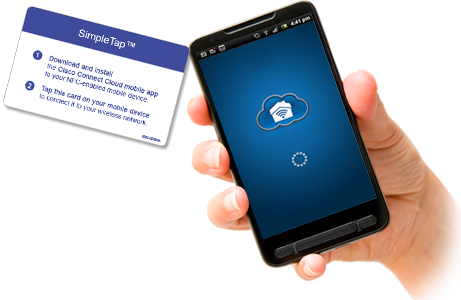 The Linksys app will then automatically launch and notify you that the mobile device is connected to the router's 2.4 GHz wireless network.

Related Articles:
SimpleTap™ connection feature Frequently Asked Questions
How to connect wireless devices to your network using the Linksys cloud account