If you encounter a Your router was not successfully setup error message during the initial installation of your Linksys Smart Wi-Fi Router with a cable modem, follow the steps below to resolve the issue.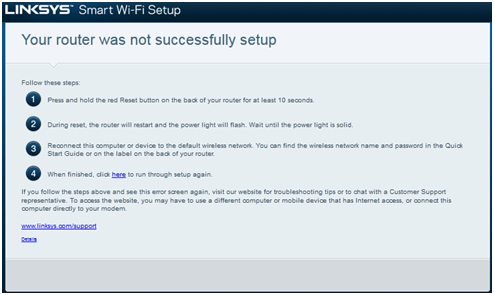 Step 1:
Disconnect your Linksys Smart Wi-Fi Router from the cable modem.
Step 2:
Press the
 button at the back of the router with a pin or a paperclip for 30 seconds.
Step 3:
Reconnect the computer to the router wired or wirelessly.
Step 4:
Access the Smart Setup Wizard by opening a web browser and typing "http://192.168.1.1" or "http://myrouter.local".
Step 5:
Start running the router's Smart Setup Wizard while disconnected from the modem until it displays the Your Internet cable is not connected correctly window.
Step 6:
Using an ethernet cable, connect the modem to the yellow internet port of the router and click the
 button.
Step 7:
Finish running the Smart Setup Wizard until you can access the router's Linksys Smart Wi-Fi Tools page.
You should now have successfully resolved this error message.
Bypassing the Smart Setup Wizard after performing a reset on the Linksys Smart Wi-Fi Router