The Linksys RE4100W N600 Dual-Band Wireless Range Extender is one of the latest range extenders from Linksys that operates on 2.4 GHz and 5 GHz frequencies simultaneously.  You can use it to extend the coverage of your existing wireless networks to eliminate Wi-Fi dead spots. 
 
Setting up this range extender is made fast and easy with the built-in setup software.  Before the actual set up, you need to know the following details of your existing and active wireless network:
Wireless network name (SSID)

Wireless network password
Step 1:
Connect the Linksys RE4100W to a working power outlet.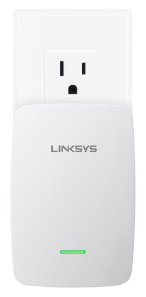 Step 2:
Place the range extender midway between your router and the area without Wi-Fi.  Be sure you have at least 50% of your router's Wi-Fi signal for setup to work.
Step 3:
Proceed by choosing which type of setup you prefer:
Wireless setup – Wait for a solid green light on the front panel of the range extender.  It could take up to two (2) minutes.  On a computer, smartphone or tablet, connect to the Linksys Extender Setup wireless network name (SSID).
 

Wired setup – Connect one (1) end of an Ethernet cable to a port at the back of the Linksys RE4100W then connect the other end to your computer. 
NOTE:  Your computer must only be connected to the Linksys RE4100W during this time and not connected to your router either wired or wirelessly.
 
Step 4:
Open a web browser on your computer, smartphone or tablet and access the Linksys RE4100W's web-based setup page by entering "192.168.1.1" in the Address bar. 

NOTE:  When asked for authentication, leave the User name blank and enter "admin" in the Password field then click OK or Login.  If you have customized your password, enter it instead.
 
Step 5:
Once you have accessed the Linksys RE4100W's web-based setup page, follow the on-screen instructions.  After successfully connecting to your router's wireless network, you will see a confirmation message.  Click Close.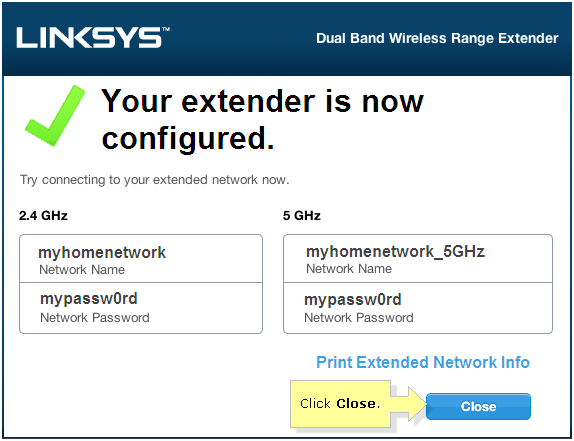 You should now be able to connect to your network.  
QUICK TIP:  If you want to upgrade the firmware of the Linksys RE4100W, click
here
.
 

Related Articles:
 
Connecting wireless computers to your WiFi
How to connect wireless devices to your network using the Linksys cloud account