El Linksys Smart Wi-Fi es un servicio gratuito que le permite acceder a su router, configurar y controlar su red doméstica al instante desde cualquier lugar. Para aprovechar las ventajas de las herramientas de la cuenta Linksys Smart Wi-Fi en su router Linksys Smart Wi-Fi con las vista clásica, es necesario realizar una actualización del firmware.

Su router es capaz de actualizar el firmware de forma automática o manual. Cuando decida realizar la actualización manual, primero debe descargar el firmware del

sitio de asistencia de Linksys

. Vea las instrucciones a continuación para entender y aprender cómo hacerlo.

Actualización manual del firmware de los routers Linksys Smart Wi-Fi

Antes de iniciar la actualización, compruebe si su router tiene un puerto de almacenamiento USB. Si lo tiene, asegúrese de que ningún dispositivo (por ejemplo, impresora, disco duro) esté conectado a él antes de iniciar el proceso. 
Paso 1:
Vaya a la página de soporte de su dispositivo para descargar el Firmware del Linksys Smart Wi-Fi.

CONSEJO RÁPIDO: Puede hacer clic en los enlaces correspondientes para visitar las páginas de soporte de cada producto.
Paso 2:
Desplácese hacia abajo hasta la sección DOWNLOADS / FIRMWARE (DESCARGAS / FIRMWARE) y luego haga clic en Download Software (Descargar software).
  
 
Paso 3:
Haga clic en la versión de hardware de su dispositivo.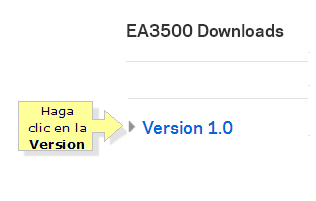 Paso 4:
Seleccione el firmware para su dispositivo y haga clic en Download (Descargar).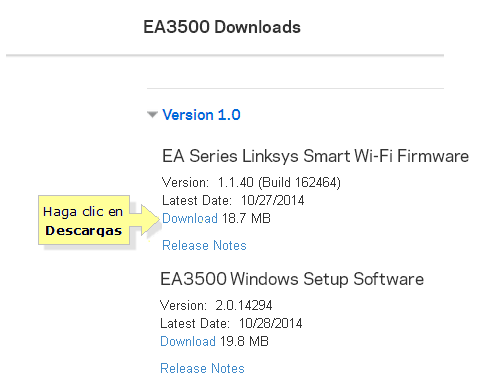 Paso 5:
Localice el archivo descargado. Haga clic con el botón derecho en el archivo descargado y haga clic en Extract Here (Extraer aquí).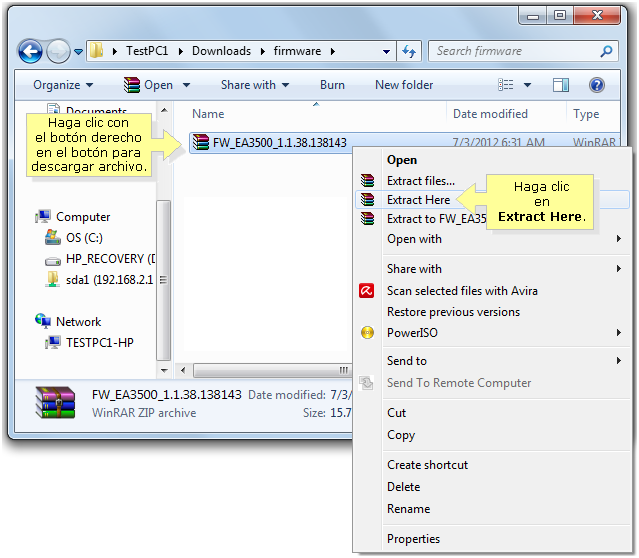 Se mostrará el firmware extraído en la carpeta.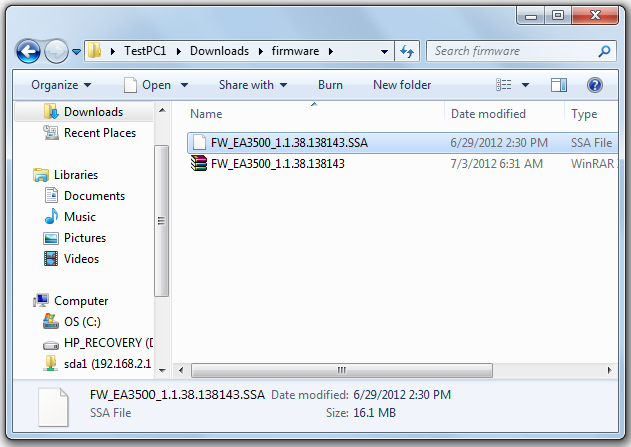 Paso 6:
Abra un navegador e inicie sesión en la página de configuración basada en la web del router ingresando "192.168.1.1" en la barra de direcciones. El nombre de usuario y la contraseña predeterminados son "admin".
 
NOTA: Si cambió su contraseña, utilícela en su lugar.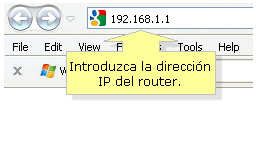 Paso 7:
Haga clic en Administration (Administración) luego haga clic en Firmware Upgrade (Actualización del firmware).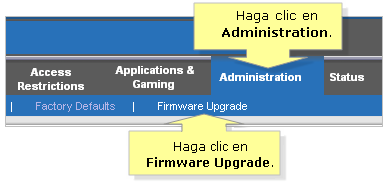 Paso 8:
Seleccione Manual Upgrade (Actualización manual) y haga clic en el botón Browse… (Examinar...).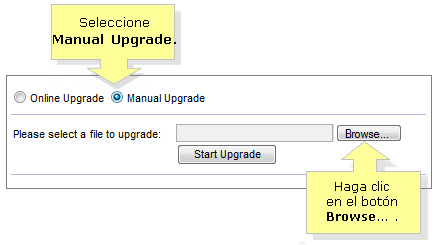 Paso 9:
Selecione el archivo que extrajo y haga clic en Open (Abrir).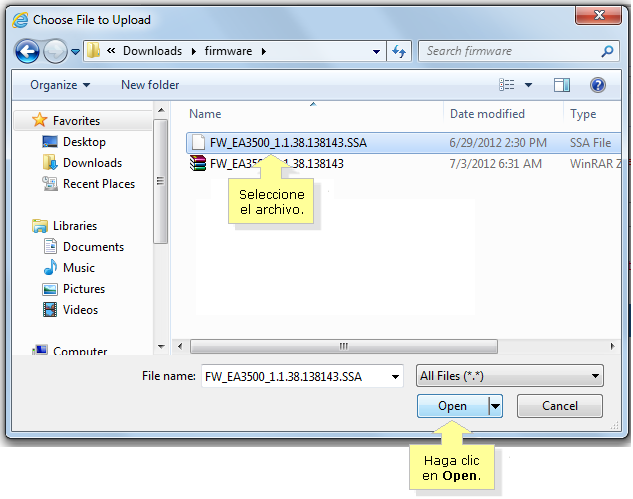 Paso 10:
Haga clic en Start Upgrade (Iniciar actualización).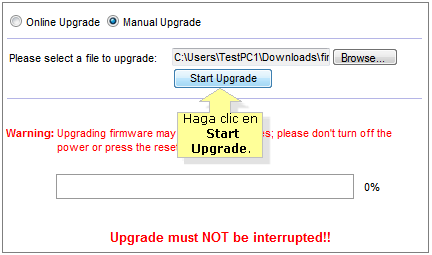 Un mensaje de advertencia que indique Upgrade must NOT be interrupted!! (Actualización no debe ser interrumpido!!) aparecerá.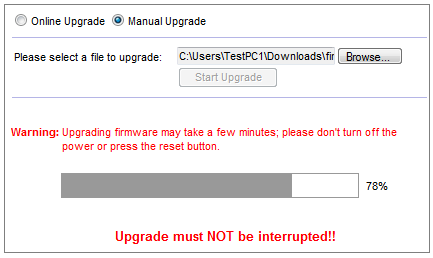 Una vez finalizada la actualización, aparecerá el siguiente mensaje de reinicio del sistema. Espere a que la luz de alimentación del router sea constante o sólida. 

Paso 11:
Inicie sesión en la página de configuración basada en la web de su router ingresando la dirección IP del router.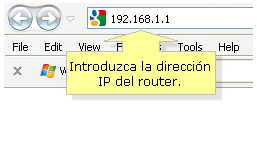 Paso 12:
Será redirigido a una página de Sign In (Inicio de sesión). Si ya creó una cuenta en la nube de Linksys, ingrese sus credenciales de inicio de sesión en los campos Email Address (Dirección de correo electrónico) y Password (Contraseña) y haga clic en Sign in (Iniciar sesión).
 
Si todavía no tiene una cuenta en la nube de Linksys, haga clic en Create Account (Crear una cuenta) y, a continuación, siga las instrucciones paso a paso.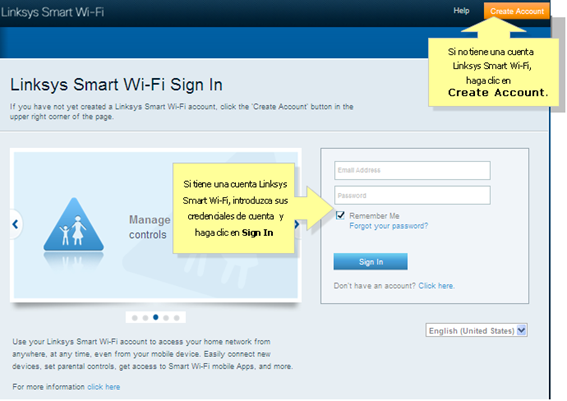 Paso 13:
Después de iniciar sesión con su cuenta en la nube de Linksys, se le pedirá que asocie su router a su cuenta. Deberá ingresar la contraseña de administrador de su router. El valor predeterminado es admin.
Sólo podrá asociar su router en la misma red (cableado o inalámbrica). Se le solicitará asociar solamente la first time (primera vez) que acceda a su cuenta mientras su router tenga conexión internet. Una vez que haya asociado su router, en toda visita futura se le solicitará su cloud email address

 and 

password (dirección electrónica y contraseña de su cuenta en la nube) cuando el router esté online (en línea), esto será considerado como inicio de sesión única.

Si su router no tiene conectividad a Internet, se le pedirá que ingrese la admin password (contraseña de administrador) del router, una vez que se haya restaurado Internet, puede continuar utilizando su cuenta de inicio en la nube en sesión única.

Su router ahora se actualiza con éxito a Linksys Smart Wi-Fi. Una ventaja de tener una cuenta en la nube de Linksys es la capacidad de hacer auto-actualizaciones. Si desea evitar que su router reciba actualizaciones automáticas de firmware, deberá OFF (Desactivar) la función Automatic Firmware Update ( Actualización automática del firmware). Por favor siga estos pasos:
Paso 1:
Inicie sesión en la página web de configuración del router ingresando "192.168.1.1" o "myrouter.local" en la barra de direcciones o vaya a

https://linksyssmartwifi.com

e ingrese sus credenciales de la cuenta en la nube de Linksys.
Paso 2:
En la página de Linksys Smart Wi-Fi, haga clic en Connectivity (Conectividad).
Paso 3:
En la pestaña Basic (Básico), desactive la casilla Automatic (Automático) y haga clic en OK.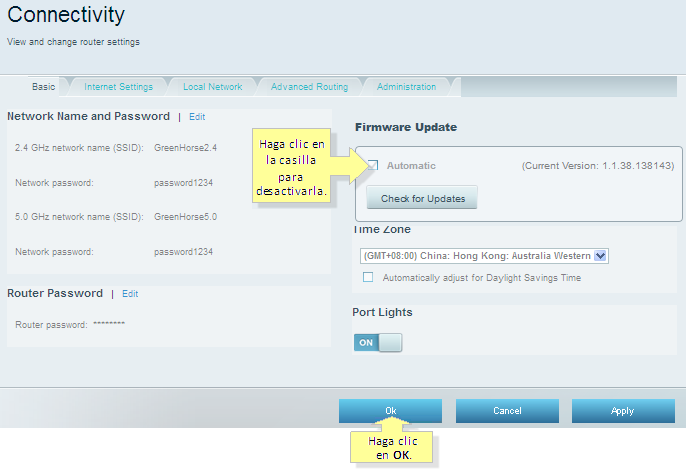 Más información sobre Linksys Smart Wi-Fi
 
Aparte de la actualización automática del firmware, el Linksys Smart Wi-Fi ofrece muchos beneficios. Con él, puede tener acceso a funciones y aplicaciones móviles que le ayudarán a controlar su red doméstica desde cualquier lugar y en cualquier momento y facilitará la gestión de sus experiencias digitales. Usted también puede:
Tocar instantáneamente en su red doméstica para comprobar el estado de conexión de sus dispositivos

Priorizar de los medios inteligentes para la transmisión de vídeo en alta definición y los juegos en línea

Controlar o bloquea el acceso de los ordenadores de tus hijos a sitios web dañinos

CONECTAR o DESCONECTAR la conexión a Internet a dispositivos en su hogar desde cualquier lugar

Dar un acceso de invitado a la Internet

Priorizar qué dispositivos de su red obtienen el mayor ancho de banda para eliminar los tiempos de retraso y el almacenamiento en búfer