Este artículo le enseñará cómo añadir un nodo secundario a una red Velop existente utilizando un dispositivo móvil iOS.  Sigue las instrucciones de abajo.
   
Requisitos
   
1.  Una conexión a internet que funcione a través de un módem o módem router (puerta de enlace)
2. Un dispositivo móvil con la última versión de la aplicación Linksys
---
Instrucciones
Paso 1:  
Inicie la aplicación Linksys e inicie sesión en su cuenta del servidor Linksys.

Paso 2:  
Toque el icono de menú 
 y luego toque Set up a New Product (Configurar un nuevo producto).
NOTA:  Las imágenes pueden variar.

Paso 3:
Toque Add Another Node to xxxx (Agregar otro nodo a xxxx) (donde las xxxx son su nombre de WiFi existente).




Paso 4:  
Toque To extend my Wi-Fi with a new child node (Para extender mi Wi-Fi con un nuevo nodo secundario).




Paso 5:  
Encienda el Bluetooth® si se le solicita.  De lo contrario, toque I would rather set up without Bluetooth (Prefiero configurar sin Bluetooth).




Paso 6:
La aplicación Linksys explica cómo colocar nodos adicionales.  Toque Next (Siguiente). 




Paso 7:
Conecte el nodo adicional a una fuente de alimentación dentro del alcance de otro nodo y luego toque Next (Siguiente).




Paso 8:
Comenzará la detección de nodos.  Esto puede tardar hasta 3 minutos.




Paso 9:
Toque Yes, it's Blinking Purple (Sí, parpadea en púrpura) tan pronto como la luz parpadee en púrpura. 



 
Paso 10:
La aplicación aplicará la configuración de otros nodos.  Esto puede tardar hasta 6 minutos.
 



NOTA:  Se le notificará cuando su nodo se colocó correctamente.  De lo contrario, las instrucciones en pantalla mostrarán recomendaciones sobre cómo colocar correctamente su nodo.  Toque Next (Siguiente) para continuar.




Paso 11:
Seleccione un nombre de nodo y luego toque Next (Siguiente).

NOTA:  Se recomienda que el nombre corresponda a la ubicación real de su nodo en casa.  Esto le permitirá identificar múltiples nodos a través de la aplicación Linksys.  Para personalizar el nombre, toque Name it something else (Ponle otro nombre).



 
Paso 12:
Ha agregado correctamente un nodo secundario.  Toque Next (Siguiente).
 


 
Paso 13:
Si desea agregar otro nodo secundario, toque Add a Node (Agregar un nodo).  De lo contrario, presiona That's it for Now (Eso es todo por ahora).  También puede agregar otro nodo más tarde iniciando sesión en el panel de Velop y siguiendo los mismos pasos anteriores. 
 


  
Paso 14:
El nodo realizará una verificación de firmware para verificar si su nodo está actualizado.  Si hay un nuevo firmware disponible, la aplicación Linksys se actualizará automáticamente.  De lo contrario, aterrizará en la pantalla Your Wi-Fi is ready (Su Wi-Fi está listo) y podrá tocar Go to Dashboard (Ir al panel de control).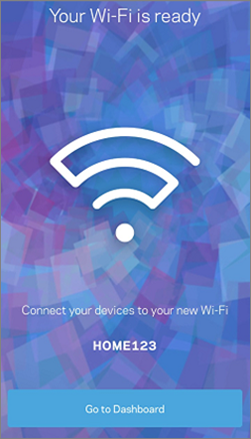 Ahora ha agregado con éxito un nodo a su red Velop existente.
 
 
Artículos relacionados:
Cómo agregar un nodo secundario cableado al sistema Velop usando la página LinksysSmartWiFi.com