A
Service Set Identifier (SSID)
is the
wireless network name
broadcast by a Linksys router.  When a wireless device searches the area for wireless networks it will detect the SSID to be able to associate with the router.  SSID Broadcast is enabled by default; however, you may also choose to disable it.
Disabling the SSID Broadcast is one way of securing your wireless network.  This procedure will prevent other users from detecting your SSID or your wireless network name when they attempt to view the available wireless networks in your area.
 
To disable the SSID Broadcast of your Linksys router, follow these steps:
Step 1:
Access the router's web-based setup page.

Step 2:
Click Wireless and select Disabled for SSID Broadcast.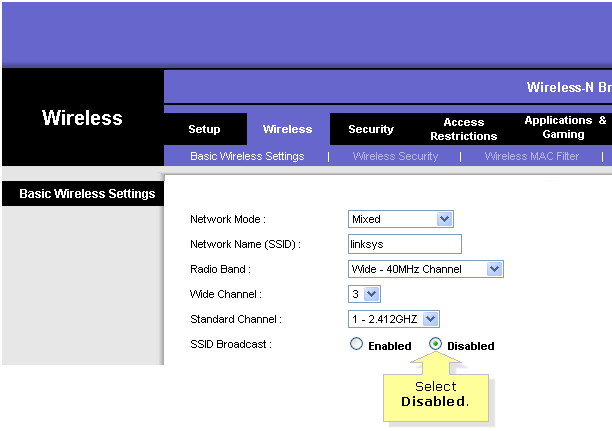 NOTE:  If the Configuration View is set to Wi-Fi Protected Setup™, select Manual and select Disabled for SSID Broadcast.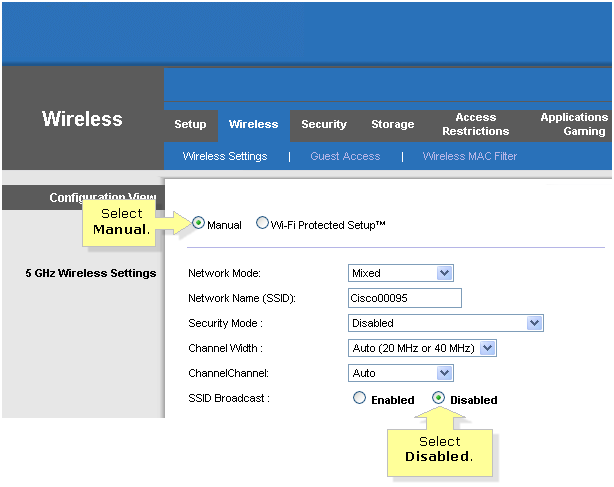 QUICK TIP:  If you have a dual-band Wireless-N router, you may disable both frequencies or you can leave one Enabled.
 
NOTE:  If you get the prompt below, click OK.
 

Step 3:
Click 

.
NOTE:  For information on how to connect to a wireless network with SSID broadcast disabled, click here.  If you would like to enable the SSID broadcast of your Linksys router, simply repeat steps 1-2 and select Enabled then click Save Settings.