The Guest Access feature allows you to create a separate Wi-Fi for your guests without allowing them to access your main network and the computers connected to it. 
After running the Smart Setup, the Guest Access feature is automatically turned ON.  A Guest Wi-Fi is created automatically on the router's 2.4 GHz band.  The latest dual-band and tri-band routers also support Guest Wi-Fi for both 2.4 GHz and 5 GHz bands.  Be sure to remember this if you're connecting other networking devices, such as an extender.  It should be configured to use the main network, not the Guest Wi-Fi.  However, if you wish to extend the Guest Wi-Fi, keep in mind that any client connected to the extender will only have access to the internet, not the network.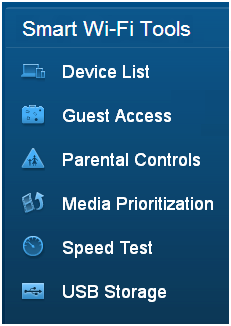 The Guest Access settings in the web-based setup page may differ depending on your router's model.  See images below for comparison.
i.  Routers that support one Guest Wi-FI on the 2.4 GHz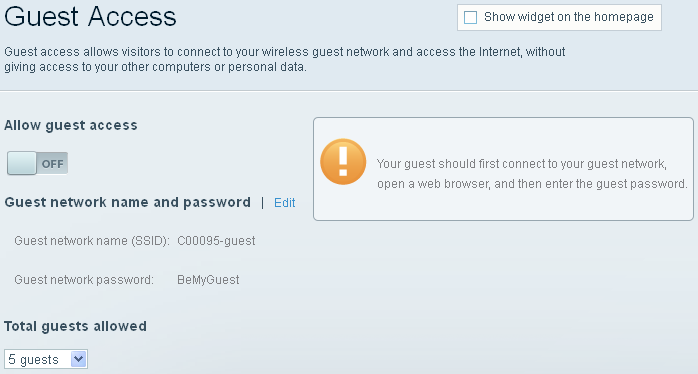 ii.  Dual-band or tri-band routers that support dual-band Guest Wi-Fi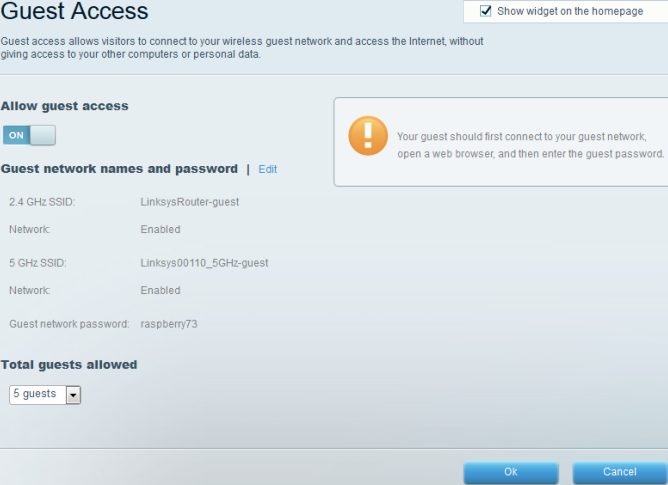 Managing the Guest Wi-Fi
 
If you bypass Smart Setup, the Guest Access Wi-Fi is OFF until you manually enable it.  This section will show you how to enable your Guest Access manually.
Access your Linksys cloud account via a web browser.  For instructions, click

here

.
 


Step 2:


On the left navigation panel, click Guest Access.
Step 3:
Toggle the button below Allow guest access to enable Guest Access.
Step 4:




Click

Edit if you would like to change the Guest Wi-Fi name and password
.
Step 5:
Enter your desired Guest Wi-Fi name and password in the fields provided.
NOTE:  You can allow up to 50 guests to connect simultaneously.
Step 6:
Click
to save your settings.