Linksys routers with Tri-Band technology provide one (1) 2.4 GHz and two (2) 5 GHz Wi-Fi network bands.   It also comes with the Smart Connect feature which allows the router to have the capacity, flexibility and intelligence to assign a 5 GHz wireless clients to connect into one of the router's two (2) 5 GHz bands. 

The router will perform band steering, which will "steer" clients to the less congested 5 GHz band's network.  This allows faster AC-capable devices to operate with greater performance on one (1) of the 5 GHz band apart from the other slower dual-band devices that would connect to the other 5 GHz radio.
Dual-Band Technology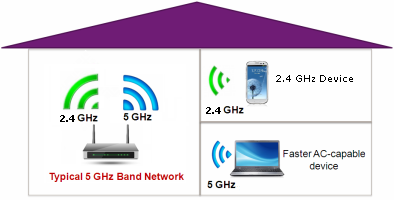 Tri-Band Technology
 
The traditional 5 GHz Wi-Fi uses 24 non-overlapping frequencies in the 20 MHz Channel Width.  Because of restrictions, most 5 GHz consumer routers and access points use only eight to nine (8-9) frequencies.
Eight to nine (8-9) frequencies - are labeled channels 36, 40, 44, 48, 149, 153, 157, 161 and 165.
Tri-Band technology has a 5 GHz WLAN composed of two (2) radios, where clients will be steered to an upper or lower portion of the band based on distance and/or protocol.
5 GHz1 - Uses channels Auto and 36-48 (lower channels)
5 GHz2 - Uses channels Auto and 149-161 or 165 (higher channels)
The Linksys Tri-Band routers are designed for device-heavy homes with simultaneous wireless activities.  To learn more about these devices, click on the links below:
Getting to know the Linksys Smart Wi-Fi Router, EA9200
Getting to know the Linksys EA9500 Max-Stream™ AC5400 MU-MIMO Gigabit Router
Getting to know the Linksys EA9400 AC5000 Tri-Band MU-MIMO Wi-Fi Router
Getting to know the Linksys EA8300 Max-Stream AC2200 Tri-Band Wi-Fi Router