The Linksys X2000 is a high-speed Wireless-N ADSL gateway that can be set up for both Cable and DSL connection.
It comes with Linksys Connect software for faster setup and easier network management.
The Guest Access feature lets you create a separate wireless network for guests while keeping your local network secured.  To learn more, click here.
Product Features
Wireless-N technology
2.4 GHz Radio frequency
Guest Access feature
Fast three (3) Ethernet ports
High speed up to 300 Mbps
Includes Linksys Connect software
NOTE:  To know more about the Linksys X2000 product features and specifications, click here.
Front panel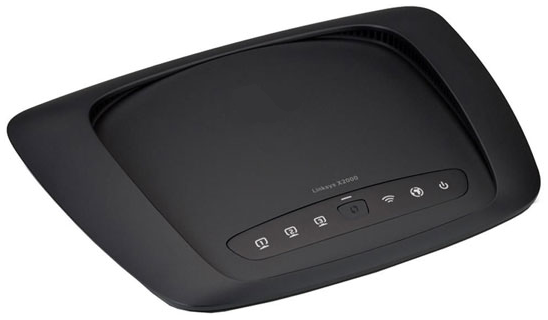 LEDs
  Ethernet (1, 2 and 3) - lights up when a computer or any device is connected to that port.

 Wi-Fi Protected Setup™ (WPS) - is continuously lit when a Wi-Fi Protected Setup™ connection is successfully established.  The LED blinks slowly while the Wi-Fi Protected Setup™ is setting up a connection, and blinks rapidly in amber if an error occurs.  The LED goes off when Wi-Fi Protected Setup™ is idle. 
NOTE:  Press this button to have the Wi-Fi Protected Setup™ search for your Wi-Fi Protected Setup™-supported wireless devices.

 Wireless - lights up when the wireless feature is enabled.  It flashes when the gateway is actively sending or receiving data over the network.

 WAN - lights up white when the gateway is connected directly to an ADSL line.  It lights up blue when the gateway is set up as a router only and is connected to the Internet through a separate modem.

 Power - lights up when the gateway is powered ON.  The LED flashes when the gateway goes through its self-diagnostic mode during boot up.  When the diagnostic is complete, the LED is continuously lit.
NOTE:  When the Power LED on your Linksys gateway is blinking, this means that the firmware is corrupted.
 Back panel


 DSL port - connects to the ADSL line.

 Cable port - connects to a cable modem if the device is installed as a router only.

 Ethernet (1, 2 and 3) - connect the gateway to computers and other Ethernet network devices on your wired network using an Ethernet cable.

 Power - This is where you connect the power adapter.
 Power button - Press this button to power ON/OFF the modem-router.

 Reset - The Reset button is located at the bottom panel of the modem-router.  There are two (2) ways to reset the Linksys X2000 to its factory defaults:
Press and hold the Reset button for approximately five (5) seconds.
Restore the defaults from the Administration > Factory Defaults page on the router's web-based setup page.
NOTE:  For more details about this product, visit the Linksys Support Site to browse for more troubleshooting articles, downloadable user guides or firmware updates and other support information.

Related Articles:
Linksys X-series Gateway Troubleshooting Frequently Asked Questions
Product comparison among Linksys X-series Gateways
Setting up your Linksys X-series Gateway as a modem-router using the Setup Wizard
Installing the Linksys X-series Gateway as a router