OpenVPN Connect is an application that lets you connect your Linksys Gigabit VPN Router with your iOS device.  The instructions below will guide you on how to configure the iOS device using OpenVPN.
 
Before configuring the iOS device, make sure the following are met:
Make sure the OpenVPN Connect app is downloaded and installed in your iOS device.  To download, click here.
Make sure that the Linksys Gigabit VPN router is configured for OpenVPN.  For instructions, click here. 
Step 1:


Download and install the OpenVPN Connect app on your iOS device.

Step 2:
Tap the Mail App icon to open yoanur email.
NOTE:  Assuming the administrator has sent the user an email with the .ovpn file as an attachment.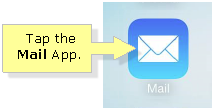 Step 3:


Select the .ovpn file.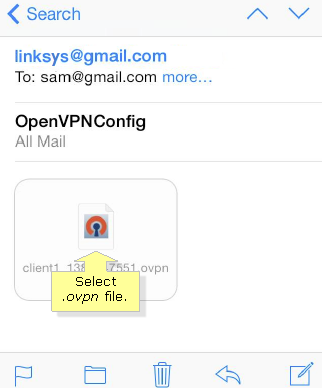 Step 4:
Tap Open in OpenVPN option.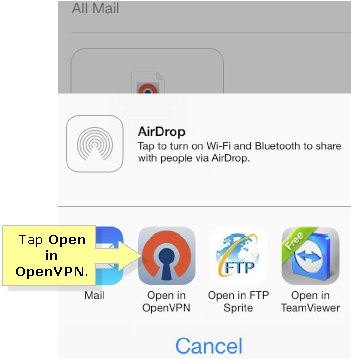 Step 5:
The OpenVPN Connect App will open automatically and under NEW PROFILES ARE AVAILABLE, tap the

 icon.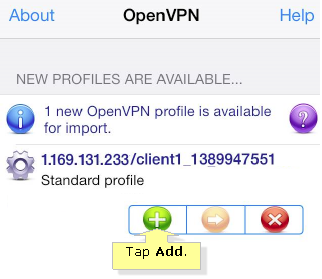 Step 6:
Enter the username and password provided by the administrator, then tap the Connect button. The OpenVPN tunnel will be established immediately.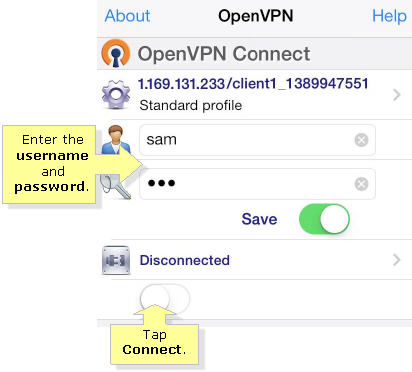 To verify the connectivity between the iOS device and the network:
Check if the iPhone® can Ping the Linksys Gigabit VPN router's LAN IP and PC1.

Check if the iPhone can access the other resources in the LAN side of Linksys Gigabit VPN router. 
Related Articles:
Configuring the Linksys Gigabit VPN Router with OpenVPN
Configuring OpenVPN for Android™ device