If the firmware upgrade fails and the DIAG light on the 
Linksys LRT214 Business Gigabit VPN Router
and 
Linksys LRT224 Dual WAN Business Gigabit VPN Router 
blinks during a firmware upgrade, you can recover the firmware by using the TFTP utility.  Follow the steps below to learn how to use the TFTP utility to upgrade the firmware.
Requirements:
i. TFTP Utility - To download the TFTP utility, click

here

.
ii. Firmware - Download the latest firmware for your router from the

Linksys support site

.  To learn more, click 

here

.
iii. Assign Static IP - For instructions on assigning a static IP address on a computer, click

here

. 
NOTE:  When upgrading the firmware, use a computer that is hardwired to the router to avoid interference during the process.  Also, make sure that you are able to ping the IP address of the router.  To learn how to ping the router, click

here

.
 
Once you have installed the TFTP utility in your computer, follow the steps below to learn how to use it to upgrade the router's firmware.
Step 1:
Power ON the router and press the reset button.  This will make the router go into loader mode.
 
Step 2:
On your computer, click the TFTP utility icon.
Step 3:
Click the Tftp Client tab, then click the Ellipses 

button for Local File to open the firmware file you downloaded for the router.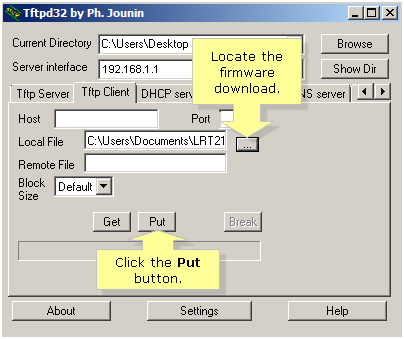 Step 4:
Once you have selected the firmware, click the Put button.  The utility will now start to upgrade the firmware.  Do not close the TFTP utility while upgrading the firmware.  Wait for the upgrade to finish. 
Once the upgrade is completed, the VPN light will turn OFF and the router will restart.  Your router is now ready for use and reconfiguration.  For instructions on how you can log in to its web-based setup page, click

here

.