Linksys is aware of the malware called The Moon that has affected select older Linksys Wi-Fi Routers and Wireless-N access points and routers.  We will be working on the affected products with a firmware fix that is planned to be posted on our website in the coming weeks.

What is The Moon malware?
 
The Moon malware bypasses authentication on the router by logging in without actually knowing the admin credentials.  Once infected, the router starts flooding the network with ports 80 and 8080 outbound traffic, resulting in heavy data activity.  This can be manifested as having unusually slow Internet connectivity on all devices.
 
What should I do to prevent this malware from infecting my router?
 
There are several steps on how to prevent The Moon malware from infecting your network.  Follow the steps below to learn how:
Step 1:
Access the router's web-based setup page.  
Step 2:
Verify if your Linksys router has the latest firmware.  The current firmware version can be seen in the upper-right corner of the web-based setup page.  If your router doesn't have the latest firmware version, update it through the
Linksys Support Site
.  To learn how, clic

k
here
.
NOTE:
  To check the firmware version of a Linksys Smart Wi-Fi Router using Linksys cloud account, click
here
.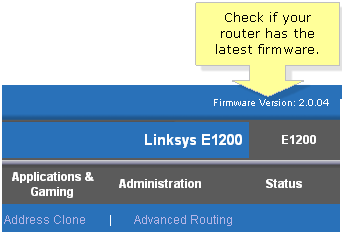 Step 3:
Once you have verified that the router has the latest firmware, click the
Administration
tab.

NOTE: 
If you have upgraded the firmware of the router, access the router's web-based setup page again then click on the
Administration
tab.
Step 4:
Make sure that the
Remote Management
option under the
Remote Management Access
section is set to
Disabled
.

Step 5:
Click the
Security
tab.

Step 6:
Make sure that the
Filter Anonymous Internet Requests
option under
Internet Filter
is checked.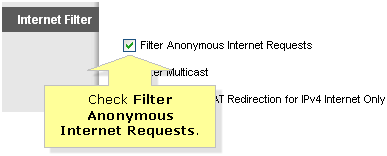 Step 7:
Click
Save Settings
.
Step 8:
Powercycle the router by unplugging it from the power source then plugging it back in.  This should clear the cache and remove the malwar

e if your router has been infected.