Once you have set up your Valet hotspot using the Linksys Connect software, a unique name and password for your wireless network will be generated automatically.  This makes it easier for you to identify your wireless network.
To know your Valet hotspot name and password, follow the steps below:
Step 1:
Launch Linksys Connect on the computer that was used to set up the Valet hotspot.
NOTE:  To launch Linksys Connect on Windows®, go to Start > All Programs > Linksys Connect.  To launch Linksys Connect on a Mac® computer, navigate to the Applications folder in Go, and then start Linksys Connect.  If you need more help, click here.
IMPORTANT:  If you want to check the wireless name and password in Linksys Connect using a new or different computer, you will need to install the software using the Easy Setup Key that came with your Valet hotspot.
Step 2:
On the main Linksys Connect screen, select Valet settings.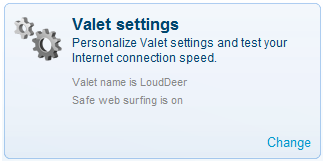 IMPORTANT:  Safe web surfing function on the device is no longer supported and not recommended to be enabled. 

The Valet Name and Password is found under the Personalize section.
QUICK TIP:  Your wireless network name and Password are also the wireless settings of your Valet hotspot.  You will be using these settings when you connect additional computers or devices in your network.
NOTE:  Connecting additional computers to your main wireless network is different from connecting computers to your Guest network.  To know more about the difference between adding a second computer and connecting a computer to the guest network, click here.
 
You may click on Change to personalize your wireless network name and password.  For detailed instructions, click here.

Related Articles:

Checking the IP Address on a Valet Hotspot using Linksys Connect Software
Connecting your iPod® to your Valet hotspot using Linksys Connect
Setting up your Valet or Valet Plus Without Running Linksys Connect