Firmware updates are regularly posted on the Linksys Support Site.  These updates may include bug fixes and functionality enhancements for your device.  Applying these updates can be done through a firmware upgrade.
QUICK TIP:  Aside from doing a firmware upgrade, you may also re-flash your device's firmware to fix its issues.  The re-flash process means that you will be updating your device's firmware with a version that is similar to the one that it's currently using.  A firmware re-flash will help in fixing the script of your device's current firmware.
This article will guide you on how to upgrade the firmware of your Linksys Wireless-N Ethernet Bridge.  To know how, follow the steps below:
IMPORTANT:  Do NOT upgrade the firmware unless you are experiencing problems with the bridge or the new firmware has a feature you want to use.
Go to Linksys Support Site and download the firmware file for your Linksys Wireless-N Ethernet Bridge.  To learn how to download the firmware, click here.
NOTE:  Save the firmware file in an accessible location on your computer, preferably on your computer's Desktop.
Once the firmware is downloaded, you can proceed with the firmware upgrade even without Internet connection.
NOTE:  For stable connectivity and to prevent upgrade failures, make sure that your computer is connected to the bridge using an Ethernet cable.  Upgrading the firmware wirelessly may cause permanent damage to the bridge since wireless connection may be unstable during the process.
Step 1:
Access the Linksys Wireless-N Ethernet Bridge web-based setup page.  To learn how, click here.
Step 2:
Click Administration > Firmware Upgrade.

Step 3:
Click the Browse... button to find and open the file that you have downloaded and saved earlier.  Then, click Start to Upgrade.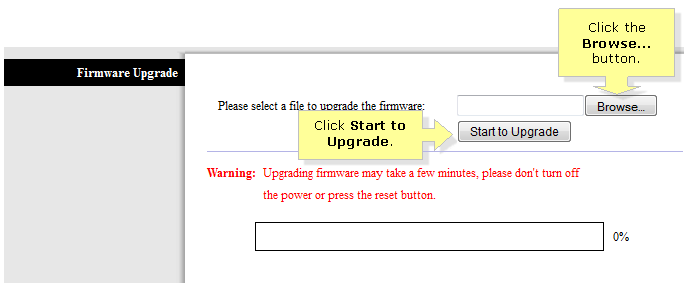 Your Linksys Wireless-N Ethernet Bridge will automatically reboot once the firmware has been upgraded.

NOTE:  To verify if the upgrade is successful, you may check the version 

 at the top right corner of the bridge's web-based setup page.
If you encounter any problem doing the upgrade, try any of the following troubleshooting tips:
Use a different web browser if Internet Explorer® doesn't work or use a different computer to perform the upgrade.

Disable any computer firewall to ensure that the upgrade will not be disrupted.

Make sure that you have downloaded the correct firmware and version for your device to prevent technical problems that may damage the router.  The hardware version can be found at the bottom of the bridge itself. 


 
Related Articles:
Configuring the basic wireless settings of the Linksys Wireless-N Ethernet bridge using manual setup
Configuring a Linksys Wireless-N Bridge through the web-based setup page