To set up your RE3000W manually, follow the instructions below:
 
Step 1:
Plug your range extender into an outlet near your computer and within the range of your wireless router.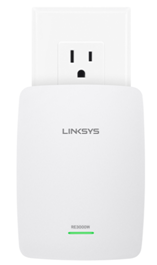 Step 2:
When the range extender's front light is solid, connect your computer, smartphone or tablet to the LinksysExtenderXXXXX wireless network.

 
NOTE:  The XXXXX in the wireless network name (SSID) is a series of alphanumeric characters.
 
Step 3:
Launch a web browser and enter "192.168.1.1" in the Address bar.

 
Step 4:
A pop-up window will appear and prompt for authentication.  Enter "admin" for both Name and Password, and click the Log In button.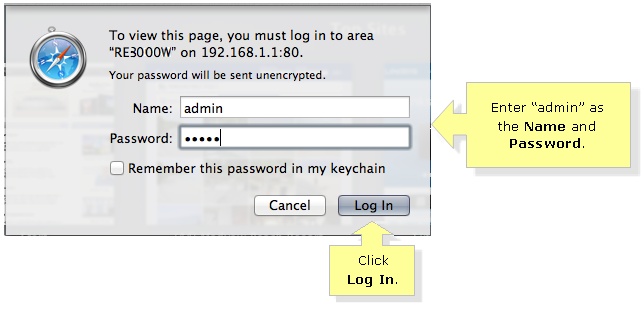 Step 5:
On the RE3000W's web-based setup page, select the Wireless tab then select the Basic Wireless Settings sub-tab.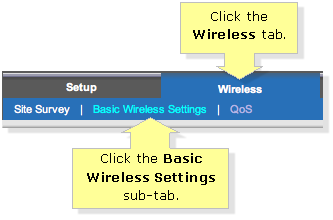 Step 6:
On the Configuration View section, select Manual.


Step 7:
Enter your router's Network Name (SSID).

 
Step 8:
On the Wireless Security section, select the Security Mode of your network.

 
QUICK TIP:  If you forgot your Security Mode, select the Site Survey link on the Wireless tab.  You should see the Security Mode type listed next to your network name.  If your mode is listed as WPA-Personal; WPA2-Personal, choose WPA2/WPA Mixed Mode.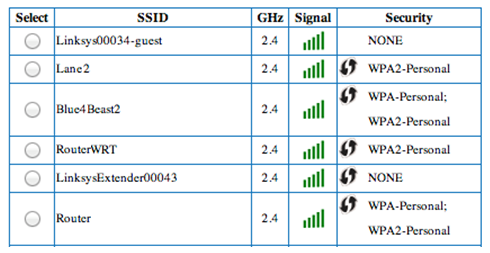 Step 9:
If your Security Mode requires a password, a password box will appear.  Enter the password for your network.

Step 10:
Click

to configure your range extender. 
NOTE:
  A progress bar will appear.  Do not close the browser until the process is complete.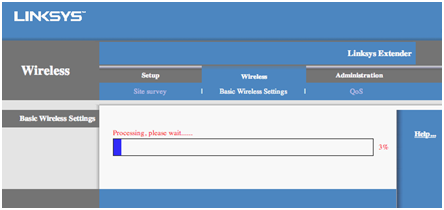 When finished, your RE3000W should be working.  You will be disconnected from the temporary network
LinksysExtenderXXXXX
.  You can now close your browser. 
To confirm that you have successfully extended your network, unplug the RE3000W and move to a location halfway between the router and the area to which you hope to extend your Wi-Fi signal.  Use a computer or a smart device to be sure that you have at least 50% of your router's wireless signal.  Open a browser to confirm that you are online. 
If you cannot get online, the problem is probably one of the four (4) issues listed below:
  Wrong network name
  Wrong password
  Wrong security mode
  You are out of range of your router. 
QUICK TIP:
  You may reset your range extender and perform the setup process again if you cannot get online.  For instructions, click
here
. 
Click
here
to download the latest RE3000W's upgraded firmware or download from the product page and run the setup. 
Related Article:
Manually configuring a wireless range extender