Game consoles sometimes require port forwarding to be set up on the router to allow the data for Internet applications or games to pass through the firewall of the router.  This helps in ensuring that the devices have smooth streaming and connectivity.  However, for port forwarding to work seamlessly, the game console must be set to have a static IP address.
This article will guide you on how to set a static IP address on your PlayStation®3.
A few things to remember before you begin:
• The cancel (O) and confirm (X) buttons (used in North American PlayStation®3 versions) may be reversed depending on your console's settings.
• This article assumes that you know your router's local IP Address, Subnet Mask and DNS server values.  You need them to set up the static IP settings on your computer.  Otherwise, access your router's web-based setup page to check them.  If you have a Linksys Smart Wi-Fi Router, click here.
• Make sure that the router has been set up and is able to connect to the Internet wired or wirelessly. If you need help with setting up your router, click the link that applies to your Internet Service Provider (ISP):
Step 1:
On the main menu, select Settings > Network Settings.

Step 2:
Scroll down to Internet Connection Settings and press O.

NOTE:  If a prompt appears, select OK to begin setup.  You will be disconnected from any active Internet connections.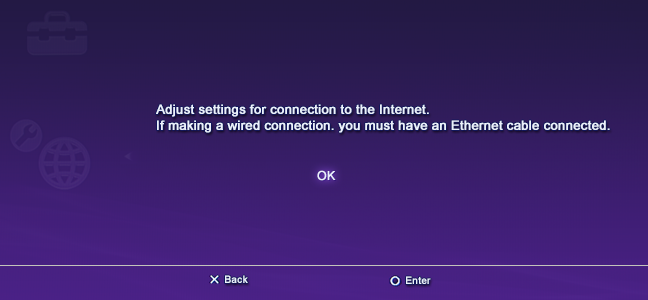 Step 3:
Select Custom and press right on your D-pad or directional pad.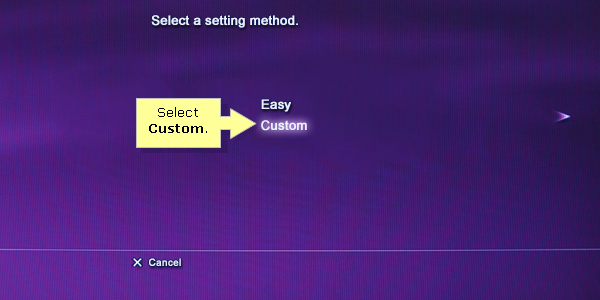 Step 4:
Select Wired Connection or Wireless connection (depending on what connection you are using) and press right.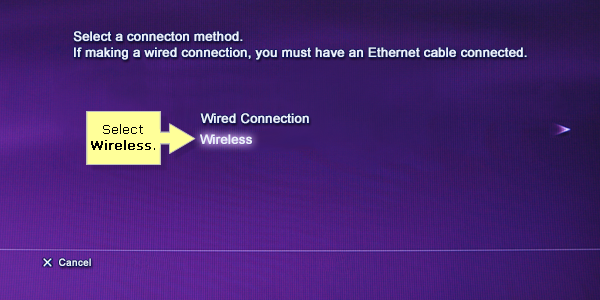 Step 5:
Select Enter Manually and press right.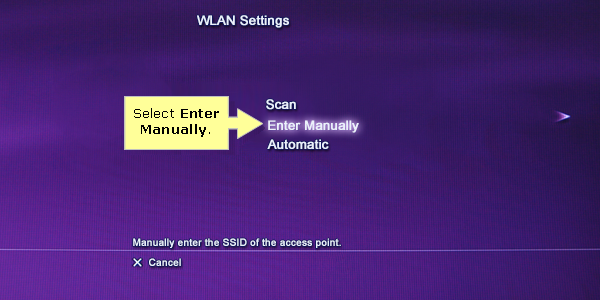 Step 6:
Press right through the wireless settings.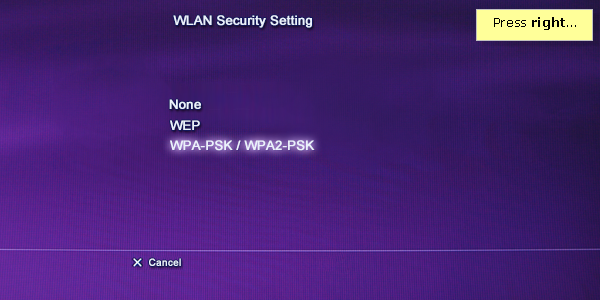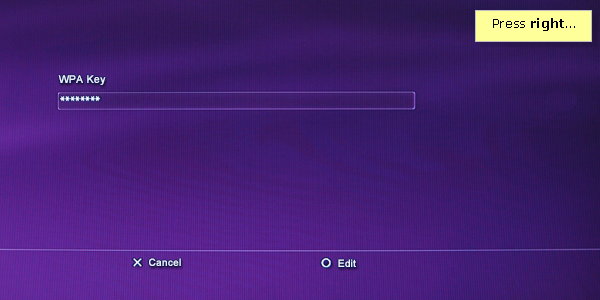 Step 7:
Under IP Address Setting, select Manual.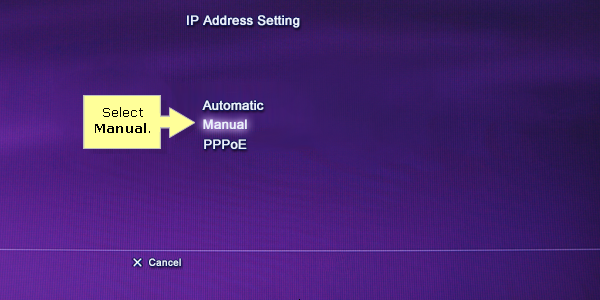 Step 8:
Enter the desired IP address that you would like to use for your PlayStation®3.  Press the O button once done.
QUICK TIP:  If the router's local IP address is 192.168.1.1, the static IP address that you may assign should be 192.168.1.X, where X can be any number between 2 and 253.  In this example, we used the following values:
IP Address: 192.168.1.10
Subnet Mask: 255.255.255.0
Default Router: 192.168.1.1 (IP Address of your router)
Primary DNS: 4.2.2.1
Secondary DNS: 4.2.2.2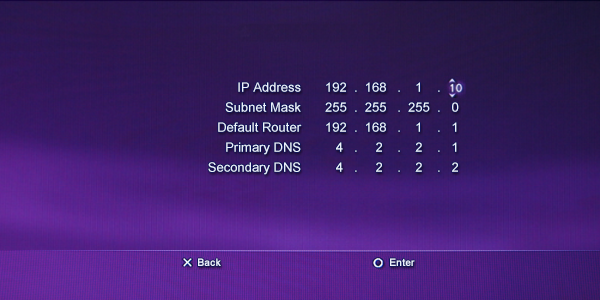 Step 9:
Select Automatic and press right.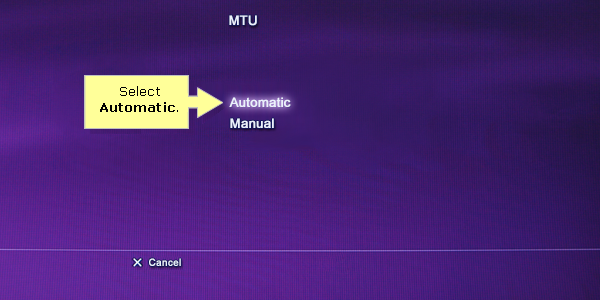 Step 10:
Select Do Not Use and press right.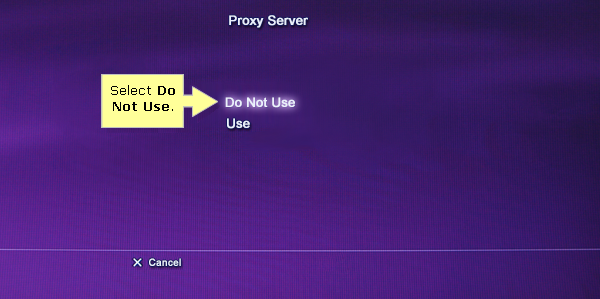 Step 11:
Select Enable and press right.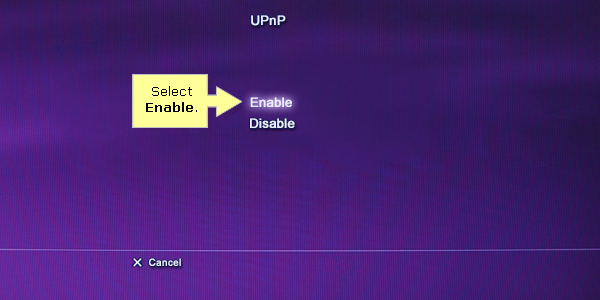 Step 12:
You will be shown the settings for your PlayStation®3.  Press O to save the settings and proceed.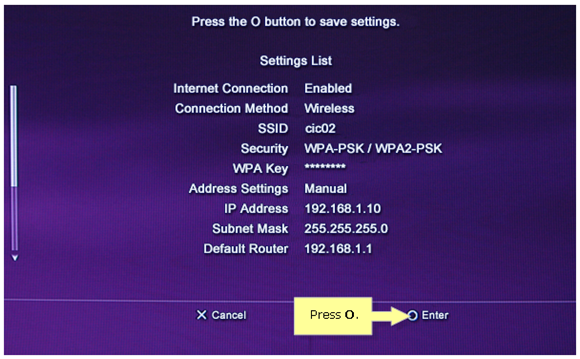 Step 13:
The next window will prompt you to test the Internet connection.  Press O to start the test.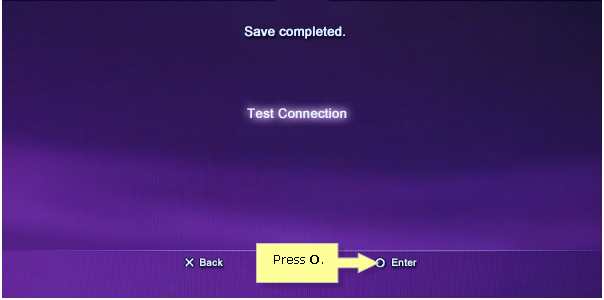 Testing the connection usually takes less than a minute.  If you configured the settings correctly and Internet connection is available, the tests should show Succeeded.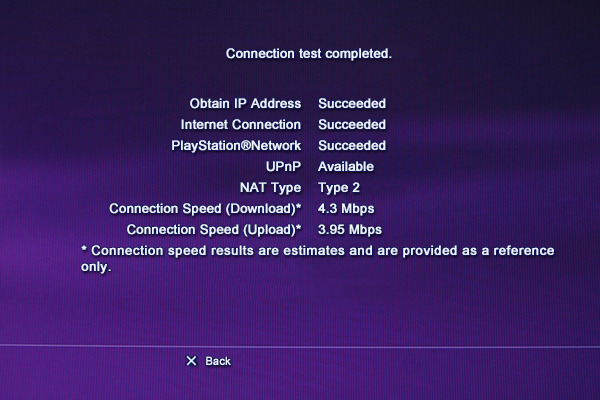 If either of the tests fail, repeat the process and make sure that your settings on the console match the ones on the router.  
Expanding your network
The Linksys router has the capability to connect multiple devices in the network such as smartphones, game consoles and printers.  If you have a large house with devices that require top wireless speeds and a wide range, you can also extend the range of your wireless network by using other networking devices from Linksys such as the Powerline adapters.