Connecting wireless devices and gaming consoles to your network becomes easier with the help of the
Linksys Connect
software.  This software can provide you the wireless settings (wireless network name and password) that you need to connect to the wireless network.  
Follow the instructions below to know how to connect your wireless devices using Linksys Connect.   
NOTE: 
Linksys Connect is also known as Cisco Connect. 
IMPORTANT: 
The instructions provided below are
only
applicable for Linksys Connect software users.  
Step 1:
Launch the
Linksys Connect
software.  To launch it on different operating systems, click
here
to learn how.   
Step 2:
Select
Other wireless devices
.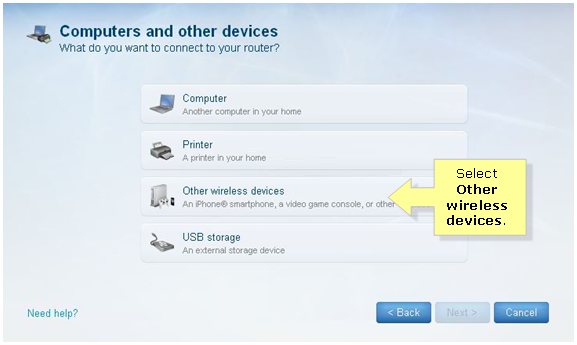 Step 3:
On the Connecting a device screen, take note of the Network name (SSID), Security Key, and Security Type.  These are the wireless settings that you will need so that your device can connect to the wireless network.  Do NOT close this window.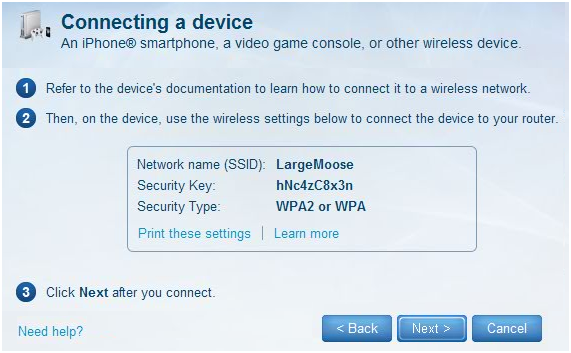 Step 4:
Using the wireless settings provided earlier, connect your device to the wireless network.  The links below provide instructions on how to connect to the Internet depending on the device that you are using:
Step 5:
Once you have successfully connected your device to the network, go back to the Linksys Connect page then click Next.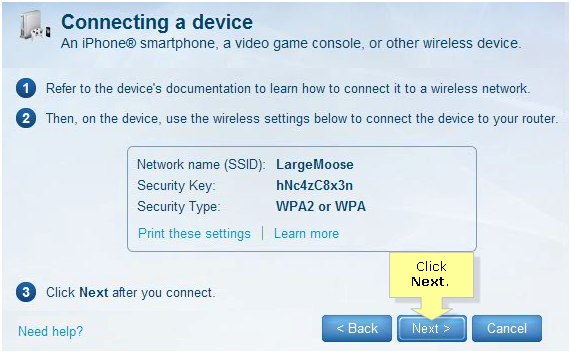 Step 6:
On the next window, you will be asked to provide a name for your device.  This will help you distinguish the different devices that you have connected to the network using the Linksys Connect software.  Make sure to use a distinct name for every device.  Click Finish once done.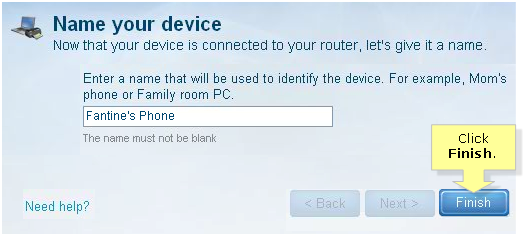 Your wireless device is now connected to the wireless network.  
Other things to remember
If you encounter any problem while trying to connect wireless devices to the network, you may try the following: 
Restart your wireless device.  Power OFF your device for about 10 seconds then power it ON again and try to reconnect to the network.  This process is referred to as powercycling your device.  It is the quickest and most convenient workaround for any connectivity issue. 
 
Double-check the wireless settings (network name and password) that you have entered to connect your device to the network.  These settings are case-sensitive, so you need to use them according to how they appear on the Linksys Connect software.   
 
Check if the MAC Filtering feature of your router is enabled.  This feature can set restrictions to certain devices from connecting to the Internet by filtering their Media Access Control or MAC addresses (take note that each device has an assigned unique MAC address).  To know if you have Wireless MAC Filtering enabled on your router, access the web-based setup page and click Wireless > Wireless MAC Filter. 
 
You can also verify the IP address or try to ping the router if you are still encountering difficulties connecting to the wireless network.  For more troubleshooting tips, click here.