Linksys wireless adapters normally do not require extra configuration to achieve optimum wireless reception as it is a plug and play device.  However, there are factors that need to be considered to maximize the connectivity.
These are the factors that may affect the performance of network adapters on a Windows computer:
i.     Computer system specifications
ii.    Distance and interference
iii.   Drivers and firmware
iv.    Match router and adapter setting
Computer system specifications
Make sure your computer meets the minimum system requirements for the adapter to work properly on your computer.  To know if your adapter is compatible with Windows 7 platform, click here.
QUICK TIP:  Linksys adapter drivers can be downloaded from the Linksys Support Site. Just enter your device's model number on the search field to go to a device's product page.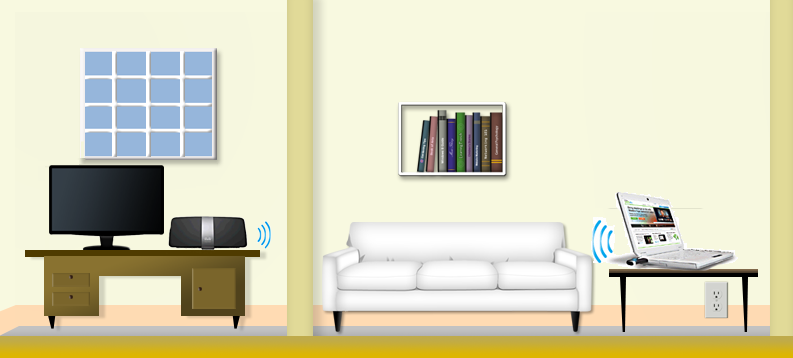 Wireless networks are susceptible to obstructions that may lead to low signal connection.  Often, the signal gets reflected, refracted or absorbed by the obstructions like thick walls or ceilings.  It would be best if the router is within the line of sight of the computer.  This will ensure a stable wireless connection between the devices.  The lesser the walls between the computer and the router are, the stronger and more stable the connection would be.
If you have other wireless devices in your home or office, these devices may interfere with the communication of the router and the adapter.  Interference happens if there is a conflict with some wireless devices that are also using the same frequency within your network.  The most common examples of devices that use the same frequency are cordless phones, microwave ovens, and baby monitors.  Another factor that could cause interference would be a separate wireless network which operates in the same frequency as your router.
To resolve frequency interference issues, power OFF the device that could possibly cause the interference or relocate your router away from it.  Another solution is to change the current wireless network channel which is set in your router's settings.
For a detailed explanation on why you need to change the wireless channel of your router, click here.
Ensure that the computer has the latest drivers installed for your adapter.  Updated drivers for wireless adapters and firmware for routers add more features and improve functionality. 
To learn how to update drivers of your wireless adapter, click here.  To learn how to upgrade your router's firmware, click here.
Match router and adapter settings
For best results, it is recommended to pair or connect Wireless-AC adapters to Wireless-AC routers in the same way that Wireless-N routers should be paired with Wireless-N adapters.  Should there be a mix of Wireless-AC and Wireless-N adapters connecting to the network, it would be best to set the wireless network mode to Mixed.
QUICK TIP:  To learn more about differentiating wireless frequency bands, click here.

Related Articles:
Checking if the network adapter is working properly
Resolving an inactive wireless network adapter
Reinstalling the wireless adapter drivers on a Windows 8 computer