Some of the Linksys Smart Wi-Fi Routers and the Linksys SE4008 have wall-mount slots at the bottom of each foot for flexibility in mounting the device on the wall.  The distance between the slots on the short side is 104 mm.  The distance between the slots on the longer side is 210 mm.  Two (2) screws are needed to mount the product.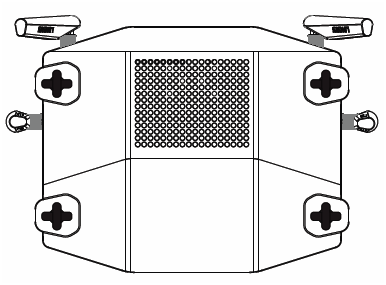 Suggested Mounting Hardware
NOTE:  Linksys is not responsible for damages incurred by unsecured wall-mounting of the hardware.
 
Follow the instructions below to learn how to successfully wall-mount your Linksys Smart Wi-Fi Router and Linksys SE4008.


 
Step 1: 
Determine where you want to mount the device.  Make sure that the wall you are going to use is smooth, flat, dry and sturdy.  Also, ensure that the location is near an electrical outlet.
 
Step 2: 
Before drilling holes, choose the template (short side or long side) that fits your installation.  Drill the holes using the correct template.
 
NOTE:  The wall-mounting templates are printed on your device's User Guide.
 
Step 3: 
Insert a screw into each hole and leave about 4 mm of its head exposed.

NOTE:  This measurement may vary depending on your device.
 
Step 4: 
Position the device so the wall-mount slots lineup with the two (2) screws.
 
Step 5: 
Place the wall-mount slots over the screws and slide the device down until the screws fit snugly into the wall-mount slots.
You should have successfully wall-mounted your device now.