Connecting the Sony PSP® and PSP®go to a wireless network allows you to take advantage of a lot of their features.  These features include browsing web pages directly on your device, downloading new games from the internet, listening to internet radio, playing multiplayer games online and using the RSS Channel to get news and other information.
 
This article will help you on how to connect your Sony PSP® and PSP®go to the wireless network and take advantage of these features.
 
IMPORTANT:  Before you connect your PSP® and PSP®go to the wireless network, you need to:
 
Ensure your device's WLAN switch is switched ON.  This can be found beside the L button and it enables the PSP®'s wireless feature.  For PSP®go, the wireless switch is located on the left side.

Take note of your router's wireless settings (Wireless network name (SSID), type of security and the wireless password).  These will be used to connect your device to the network.  For instructions on how to check your wireless settings, click

here

.

Confirm that your router has been set up and working.  Also make sure that you are able to access the internet through the router.  If you require help in setting up your router, refer to the following links:

DSL
How to set up your Linksys Wi-Fi Router for the first time using Linksys Connect

Connecting your PSP® and PSP®go to the wireless network
 
Step 1:
On your device, go to Settings > Network Settings.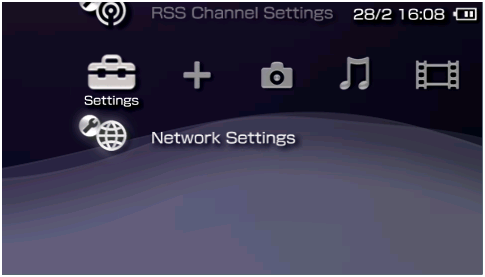 Step 2:
Select Infrastructure Mode then [New Connection].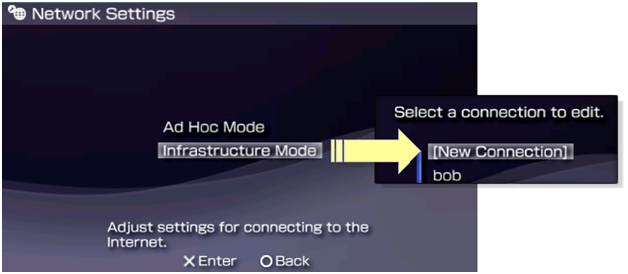 Step 3:
On the WLAN Settings menu, select Scan.  This will display all the available wireless networks within range.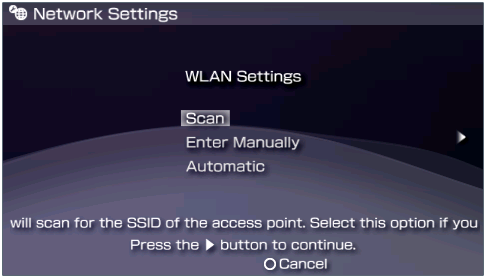 Step 4:
Select your wireless network from the list that appears.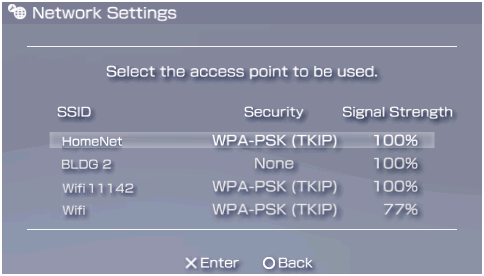 NOTE:  If your router's SSID does not appear, check and make sure that your router's SSID broadcast is enabled.  The PSP® and PSP®go are only able to connect on the 2.4 GHz band and can only support WEP and WPA security modes.
 
Step 5:
The PSP® or PSP®go will automatically fill in your SSID and detect its security type.  Tap right through those fields.  Once the passphrase (WPA/WEP Key) window appears, tap X.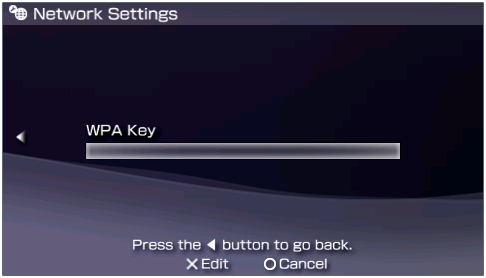 Step 6:
Enter the router's passphrase using the onscreen keyboard then press Start.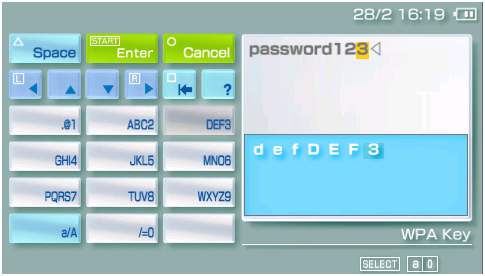 NOTE:  WPA keys are case sensitive (abc is different from ABC).  WEP keys are hexadecimal (0-9 and a-f) characters and are not case sensitive.
 
Step 7:
Press right through the rest of the options then press X to save your settings.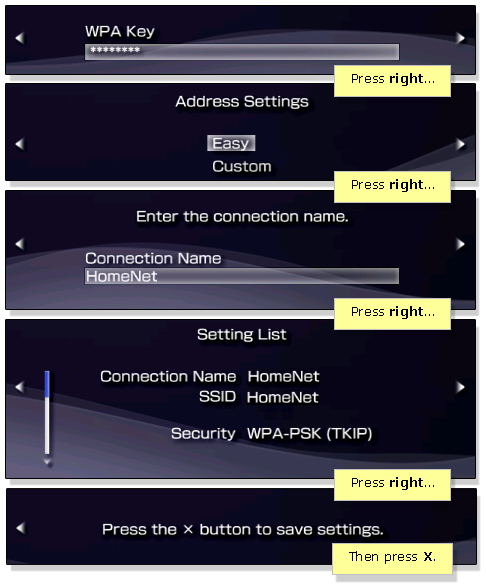 Step 8:
After saving your settings, press X again to test your connection.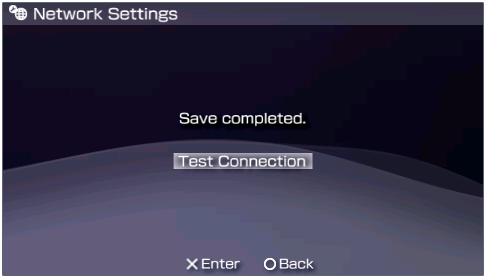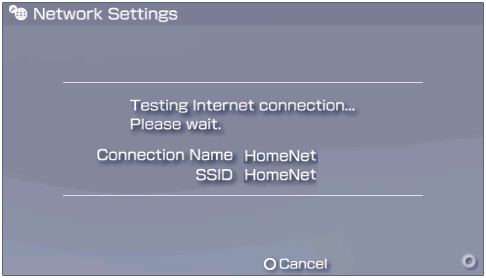 Once the tests are successful, you should see a screen that lists your network's connection details.  Press O to go back to the connections list screen.
 
NOTE:  If the connection test fails, follow the on-screen instructions to check the settings.  You may also need to verify if MAC Address filtering is enabled on your router.  You may need to enter the MAC address of your device to connect to your wireless network.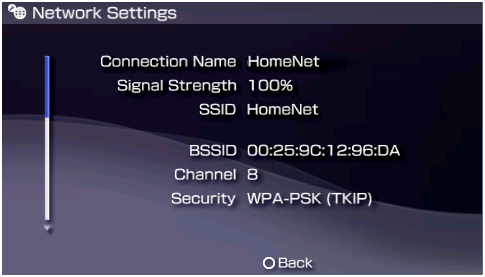 When you access a service that requires network connection such as the PSP® or PSP®go's web browser, simply choose the network profile you created earlier and you should be able to connect to the internet if you are within range of the wireless network.
 
Expanding your network
 
The Linksys router has the capability to connect multiple devices in the network such as smartphones, game consoles and printers.  If you have a large house with devices that require top wireless speeds and a wide range, you can also extend the range of your wireless network by using other networking devices from Linksys like the Powerline adapters.