The Linksys WRT300N is a Wireless-N Broadband Router that uses the wireless networking technology called Multiple Input Multiple Output (MIMO).  MIMO technology uses multiple radios to create a robust signal that travels up to four times farther and reduces dead spots.
Top Panel
Semi Directional Antenna – You may point this antenna to the direction where you need to boost your signal.
Reserved Button - The router has a button reserved for a future function.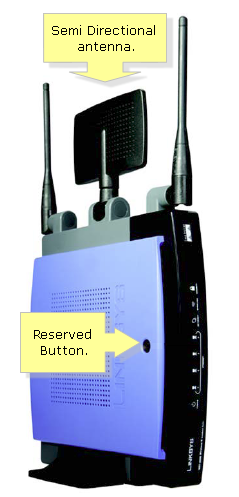 Front Panel and LEDs


 Power (Green) – The Power LED lights up and will stay on while the router is powered ON.



 Ethernet 1, 2, 3, 4 (Green) – These numbered LEDs, corresponding with the numbered ports on the router's back panel, serve two purposes.  The LED is continuously lit when a device is connected to the port.  It flashes to indicate network activity over that port.

 Internet (Green) – The Internet LED lights up when there is a connection through the Internet port.

 Wireless (Green) – The Wireless LED lights up when there is a wireless connection.  It flashes when the router sends or receives data over the wireless network.

Security (Green) – The Security LED indicates when wireless security is enabled.
Router's Back Panel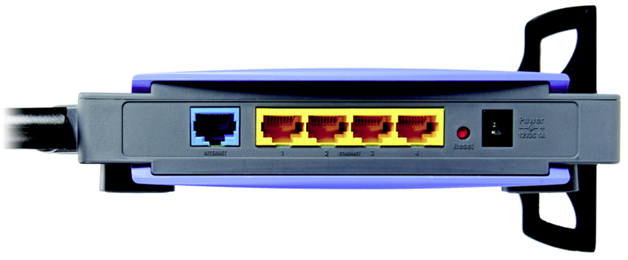 Internet – The Internet port is where you will connect your modem.

 Ethernet 1, 2, 3, 4 – These ports (1, 2, 3, 4) connect the router to your wired computer and other Ethernet network devices.

 Reset – There are two ways to reset the Linksys WRT300N to its factory defaults.  Either press and hold the Reset button for approximately 10 seconds, or restore the defaults from the Administration > Factory Defaults screen in its web-based setup page.

 Power - The Power port is where you connect the power adapter.  Just unplug the power adapter to power OFF the device.