The
Linksys Smart Wi-Fi Account
makes it easier for you to track your Internet connection for incoming and outgoing Internet traffic, security for browser-based utilities, and local
Dynamic Host Configuration Protocol (DHCP)
server
status information using the
Logs
feature. 
To start enabling the Logs feature, follow the steps below: 
Step 1:
Launch a web browser and access your Linksys Smart Wi-Fi Account.  To learn how, click
here
.
Step 2:
On the navigation pane under
Router Settings
, click
Troubleshooting
.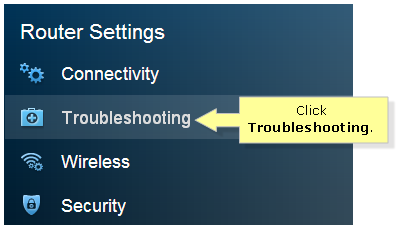 Step 3:
On the Troubleshooting page, select the Logs tab and click the box button to switch it ON.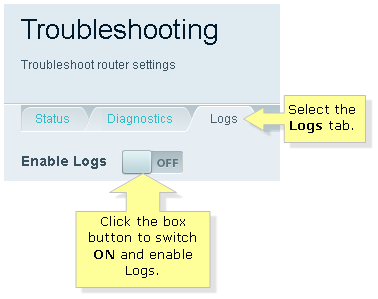 Step 4:
Click Ok at the bottom of the window.
 
NOTE:  The Logs screen will show you the Incoming log, Outgoing log, Security log, and the DHCP client log.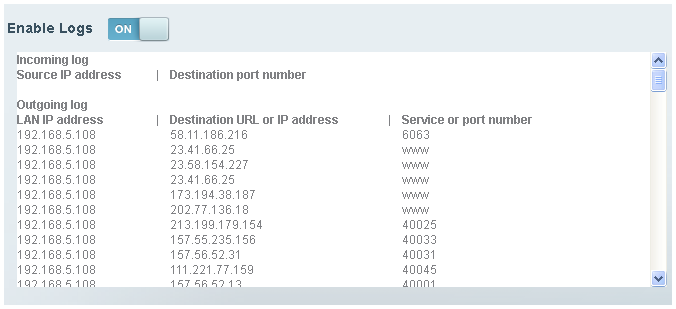 IMPORTANT
:  The logs will be replaced if you
reboot
or
reset
your router.  The router can only store up to
200 Kb
of log information.  Once it reaches this limit, the older logs will be replaced by new entries. 
QUICK TIP
:  The date and time logs will be dependent on the
Time Zone
setting.  To properly set this feature, go to
Connectivity > Basic
and select the appropriate time zone.             
Adding more devices to your network
The Linksys Smart Wi-Fi's main objective is to provide the best experience to your home network.  Connecting wireless devices such as smartphones, tablets, gaming consoles, cameras, and wireless printers to the Internet has been made a lot easier.  Click on the link below to learn how to connect your devices to your home network: 
How to connect wireless devices to your network using the Linksys cloud account