The Linksys WRT32X AC3200 Dual-Band Wi-Fi Gaming Router with Killer Prioritization Engine supports both Manual and Auto Update features in updating the firmware.  To learn how to check and update the firmware, follow the steps below.
 
Step 1:
Access the Linksys WRT32X web interface.  For instructions, click here.

Step 2:
On the left side of the screen, click Router Administration.

Step 3:
Scroll down to the Firmware section.  It will automatically check if there is a firmware available.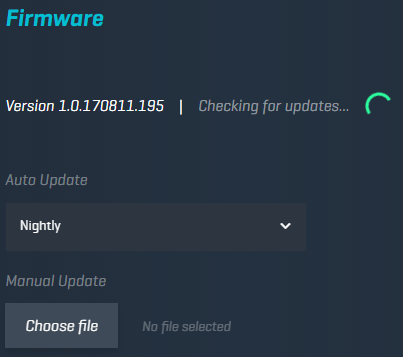 Up to date - your router has the latest firmware installed.
 
Update now - If a new firmware is available for download, it will display

.  Click Update Now to update the firmware
NOTE:  To view current release notes, click on Release Notes.
Manual Firmware Update
Select Manual Update if you want to perform manual firmware updates.  Make sure to download the updated firmware of your Linksys WRT32X.  To download the firmware or read the release notes, click 

here

for Hong Kong. For other regions except for Hong Kong, click

here

instead.
Step 1:


Click on Choose file.
 


Step 2:


Select the firmware file you downloaded.
 


Step 3:


Click Upload to begin processing the file.
Step 4:


After the file is processed, click Install.
Step 5:


Click Yes to proceed with installation.
Step 6:


Once the update is complete, click Okay.

You should now have successfully updated the firmware of your Linksys WRT32X.
Related Videos:
What is the Linksys WRT32X's Killer Prioritization Engine (VIDEO)
Changing the Wi-Fi Settings of the Linksys WRT32X (VIDEO)
Changing the Linksys WRT32X admin password (VIDEO)
Overview of the Linksys WRT32X Dashboard (VIDEO)
Setting up the Guest Access feature of the Linksys WRT32X (VIDEO)
Setting up Prioritization on the Linksys WRT32X (VIDEO)