Internet Protocol version 6 (IPv6) is a protocol introduced to replace Internet Protocol version 4 (IPv4) in order to solve the IP address exhaustion problem.  Although IPv4 is still being used, some Internet Service Providers (ISPs) already require setting up IPv6 on the router to activate your internet connection.  
 
IPv6 allows IPv4 WAN for 6to4 tunnel packet transition from WAN to LAN.  However, the 6to4 tunnel packet cannot transit to LAN without setting the service access rule.

To set the IPv6 6to4 tunnel access rule, follow the instructions below.
 
NOTE:  In this example, the Linksys LRT224 is used.
Step 1:
Access the router's web-based setup page.  To learn how, click here.
 
Step 2:
Click the Configuration menu.
 

Step 3:
Under the IP MODE section, tick Dual-Stack IP.
 

Step 4:
Click IPv6 Transition under the Setup menu.
 

Step 5:
Tick Enable 6to4 Tunnel then click Save.
 

Step 6:
Go to the Firewall menu > Access Rules.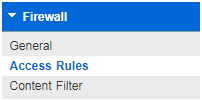 Step 7:
Under the IPv4 section, click Add.
 

Step 8:
Click Service Management.
 

Step 9:
Type 6to4 in the Service Name field.

NOTE:  The Port Range fields will remain grayed out since it does not need to be filled out.

Step 10:
Select IPv6 from the Protocol dropdown menu.
 

Step 11:
Click Add to list and then OK.
 
Step 12:
Under the SERVICES section, select 6to4 [IPv6/0~0] from the Service dropdown menu.
 

Step 13:
Set the Source Interface to WAN 1, and the Source IP and Destination IP to ANY.
 

Step 14:
Click Save.

To check if the rule has been properly set, you may verify using the following:
 
Under the System Status menu, an IP address is listed on the IPv4 WAN1 IP Address.
 
 
When all TCP/IP network configurations are displayed using ipconfig on the command line, the 6to4 IPv6 IP should have a prefix of 2002.
 

The ping packets are from another computer sent through the 6to4 tunnel.