THE EVOLUTION
OF HOME Wi-Fi
*
---
How does your home Internet stack up?
AT THE END OF THE DAY, WE WANT OUR Wi-Fi
What would you give up for better Wi-Fi? In a survey, respondents said that Wi-Fi Internet was more important to them than TV, alcohol, sex, and everything else besides food.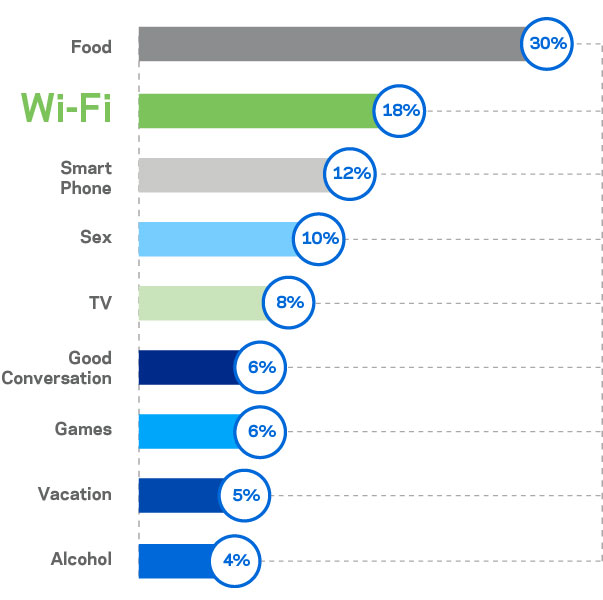 Respondents ranked Wi-Fi 90% more important than sex.
Wi-Fi TECHNOLOGY IS EVOLVING – BUT HAS YOUR ROUTER?
The days of noisy dial-up connections and web browsers that came on CD-ROMs may be over, but if your home has an outdated router, you're still living in the past. Homes today have an average of 8 devices connected to the Internet, and 84% of users stream videos and music, or play games online – all at the same time. However, a majority of homes still use old wireless router technology. It's no wonder that 54% of wireless Internet users surveyed face repeated performance issues.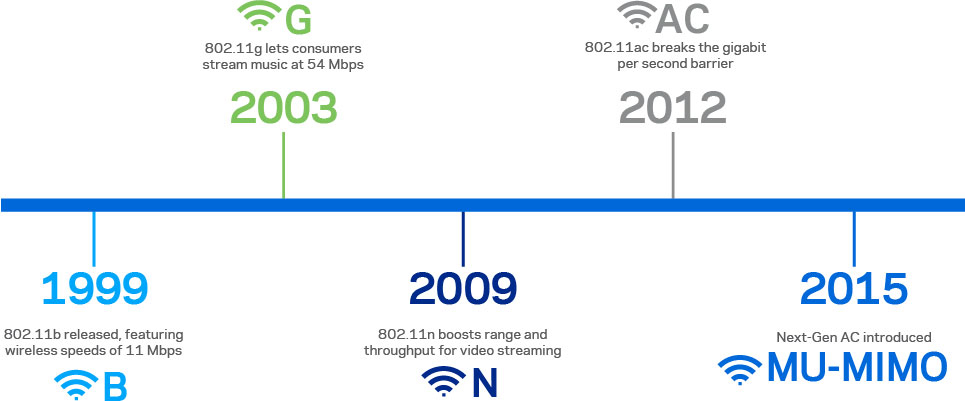 54% of users experience frequent performance issues with their Wi-Fi.
CAN YOUR Wi-Fi KEEP UP WITH YOU AND YOUR FAMILY?
Households' wireless devices are steadily improving, but the wireless router powering them is often outdated.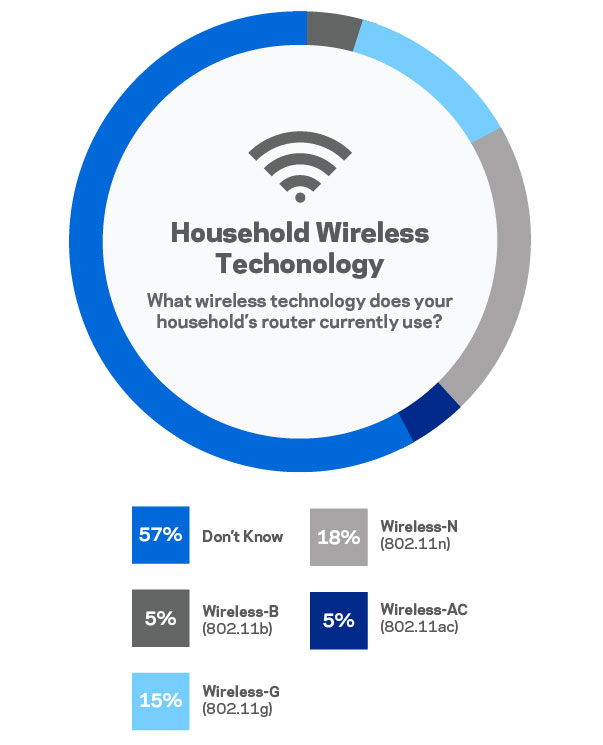 How old is your wireless router?
THE EVOLUTION OF HOME Wi-Fi
The average home has more than 8 devices connecting to the Internet – we're streaming TV shows in HD, we're video chatting with friends and family, we're playing video games against opponents around the globe, often at the same time.

To keep up with our growing Internet usage, modern home Wi-Fi routers have steadily boosted their wireless speed and range: from 11 megabits per second in 2000, to 1.3 gigabits today. That's over 1,000 times faster.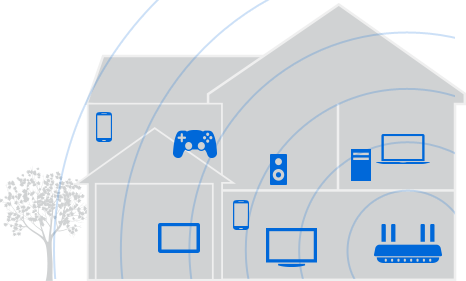 Today's Wi-Fi routers are 1000x faster than the routers of the '90s.
THE HOME Wi-Fi NETWORK IS CROWDED AND AGING ROUTERS CAN'T KEEP UP
More people are connecting more devices doing more bandwidth-intensive things than ever before – and it's getting harder for aging routers to handle it.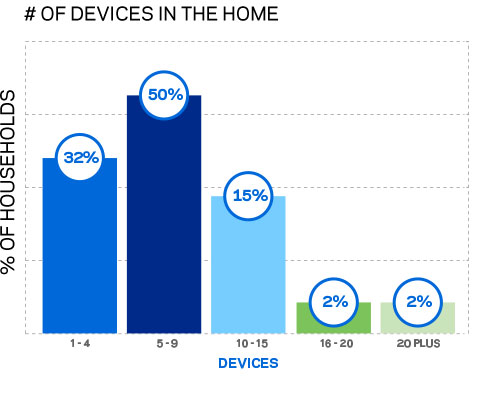 Nearly 70% of households with three or more persons have at least 5 devices simultaneously connected to the Internet.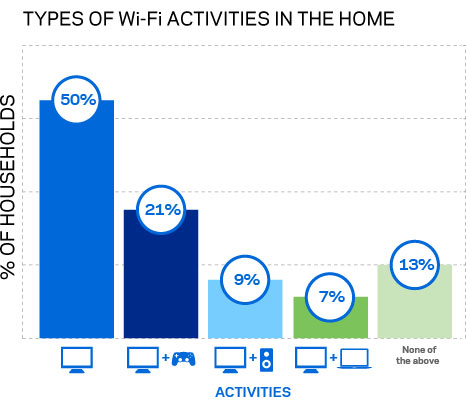 Connected Wi-Fi devices are being used for streaming movies, TV, online video games, music and more.
AT RUSH HOUR, HOME Wi-Fi IS CLOGGED
Currently more than 100 million households worldwide stream video from the Internet to their televisions. However, most wireless routers use their bandwidth inefficiently, which leads to lag and buffering.
FREQUENCY OF BUFFERING + PERFORMANCE ISSUES DURING VARIOUS ACTIVITIES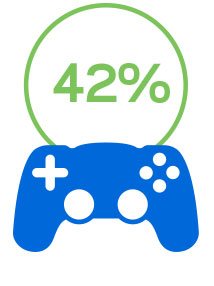 PLAYING ONLINE VIDEO GAMES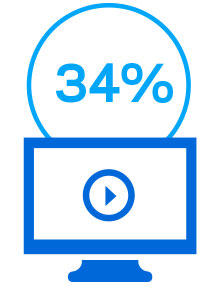 STREAMING MOVIES OR TV SHOWS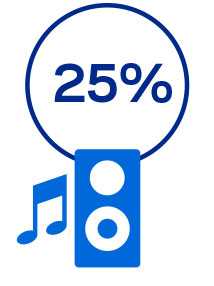 LISTENING TO MUSIC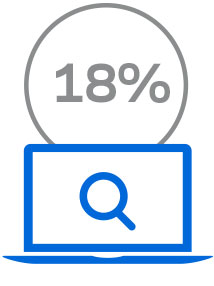 SURFING THE WEB

How many people use the Internet at the same time in your household?
THE WIRELESS TRAFFIC JAM WILL ONLY GET WORSE
By the end of 2019, households worldwide will have more than 10 billion devices capable of connecting to their home Wi-Fi router.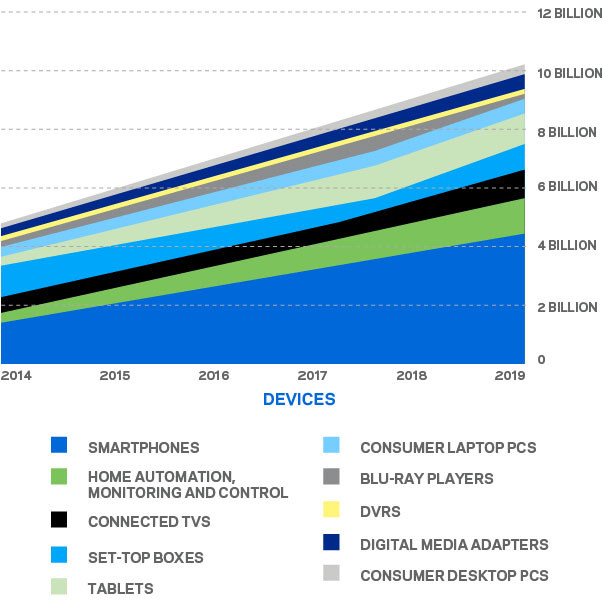 An expanding array of smart devices is placing an increased demand on home Wi-Fi networks—from garage door openers to bathroom scales.
NEXT-GEN Wi-Fi TECHNOLOGY IS HERE: MULTI USER-MIMO
The newest AC Wi-Fi technology, Multi-User MIMO (MU-MIMO), untangles these knotted Wi-Fi networks by distributing the wireless signal more efficiently. MU-MIMO provides up to 3x faster performance for all the devices on your wireless network. How? By prioritizing each device to its own high-speed wireless connection.
Routers today send one wireless transmission to one device at a time; but MU-MIMO allows for several simultaneous transmissions to the devices on your home Wi-Fi network. This means the whole household can play video games, listen to music, and stream movies at the same time, without lag or buffering.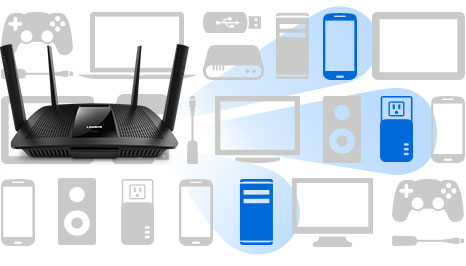 MU-MIMO allows for dedicated wireless transmissions to each device. Improved transfer speeds. Reduced lag.
REFERENCES
*The above data was sourced from a survey conducted by the IDC, and sponsored by Linksys. To learn more read the complete study.
MORE INFORMATION
If you enjoyed this article, here are some more resources to help you build a powerful Wi-Fi network: