The
Linksys Managed Switches
namely,
LGS528
,
LGS528P
,
LGS552
, and
LGS552P
, are designed for customers who need enhanced Security and advanced QoS.  The LGS528P and LGS552P have
built-in PoE+
feature that allows networking devices such as network hubs, IP phone, and IP cameras to be located anywhere without the need for AC outlets.
This article will provide you the instructions on how to access the Managed Switch's web-based setup page. 
Step 1:
Launch a web browser such as Internet Explorer (v.9 or 10) or Firefox (v.16 and latest).
 
Step 2:
Enter the Switch's IP address in the browser's address bar then press Enter.

NOTE:  The Linksys Managed Switch's default IP address is 192.168.1.251.  If a DHCP server is detected in the network, you will need to look up for the switch's IP address in your DHCP table.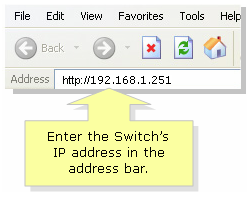 Step 3:
Enter the Username and Password in the login fields and click Log In. 
 
NOTE:  The default Username and Password is "admin".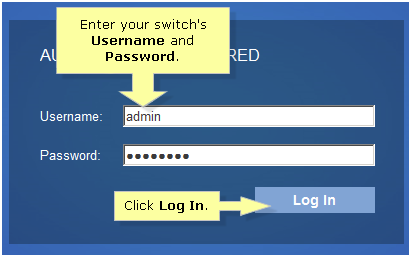 You have now accessed the web-based setup page of your switch.
Related Article:
Accessing the Menu CLI on the Managed Switch