The Linksys Smart Gigabit Switch offers a quick and easy solution to extend your office network.  It has gigabit speed ports, a web-based setup page for easy configuration and management, and PoE+ support for networking devices to be located anywhere without the need for alternating current (AC) outlets.
 
This article will give you instructions on how to mount the switch in any standard 19-inch wide, 1U high rack.
Step 1:
Place the switch on a hard, flat surface with the front panel facing you.

Step 2:
Using the supplied screws, attach the rack-mount brackets to either side of the switch and secure tightly.

Step 3:
After the brackets are attached, use the supplied screws to securely connect the brackets to the rack.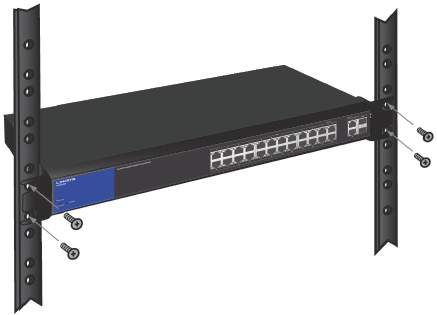 NOTE:  The rack-mounting kit is included in the device's package.
You have now successfully mounted your switch.
Related Article: