La configurazione del Linksys EA9500 e Linksys EA9400 è semplificata utilizzando Smart Setup Wizard (L'Asistente di configurazione intelligente) che è incorporata nel firmware del router ed è disponibile anche se il router non dispone ancora di una connessione internet oppure se il router ha le configurazioni predefinite di fabbrica.



NOTA:

 

Prima di iniziare la configurazione, assicurati che il router sia pronto. Il tempo di avvio del sistema del router è di circa 90 secondi. Sapreste quando il router è pronto in base ai LED del pannello superiore. Vedrà otto (8) barre bianche piene con il logo Linksys. Se le barre bianche lampeggiano rapidamente, attendi fino a quando rimangono ferme.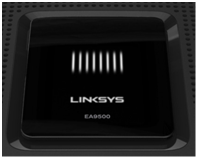 I seguenti requisiti devono essere soddisfatti per evitare qualsiasi problema durante il processo di installazione:



Configurazione del computer:
Ultima versione di internet Explorer®, Google Chrome®, Mozilla Firefox®, Safari® (per Mac® o iPad®), Microsoft Edge

Ultimo Adobe® Flash® Player
Passo 1:


Colleghi il tuo computer wireless ai SSID predefiniti che sono

Linksysxxxxx

e Linksysxxxxx_5GHz dove xxxxx sono le ultime cinque (5) cifre del numero seriale, mentre la password wireless viene generata casualmente. Queste credenziali sono disponibili sulla Guida di installazione rapida e stampate anche sull'etichetta nella parte inferiore del router.
NOTA:

 

Se è necessario configurare il router utilizzando un computer cablato, collegare il computer a una delle otto (8) porte ethernet sul retro del router.
Avvia un browser web e inserisci "linksyssmartwifi.com" nella barra degli indirizzi, quindi premi 

[Enter]

[Accedi].





NOTA: 

Puoi anche inserire "192.168.1.1" oppure "myrouter.local"

.
Passo 3:


Spunta la casella accanto a

I have read and accepted the License Terms for using this software

(

Ho letto e accettato i termini di licenza per l'utilizzo di questo software) poi

 fai clic su

Next

(Avanti) per procedere.





NOTA:

 Fai clic 

sul link fornito per ulteriori informazioni sui termini di licenza e altre informazioni. Se preferisci configurare manualmente il router, seleziona la casella accanto a

I want to skip Setup and configure my router manually

(

Voglio saltare l'installazione e configurare il router manualmente)

.
Passo 4:




Lo 

Smart Setup inizierà ora a rilevare la tua connessione internet.



NOTA:

 

Se non viene rilevata una connessione internet, è possibile ricevere determinati messaggi a seconda del problema riscontrato, ad esempio

Your Internet cable is not connected correctly

(

il tuo cavo internet non è collegato correttamente)

. 

Segui i passi suggeriti per la soluzione dei problemi per risolvere il problema di connessione, quindi fai clic su

Next

(Avanti).
Per i clienti

Digital Subscriber Line (DSL)

(

Linea el Abbonato Digitale) (DSL)

,

l'installazione richiederà un PPPoE

Account name

(Nome Utente) e

Password

dal tuo Fornitore di servizi internet (ISP). Inserisci le informazioni necessarie quindi fai clic su

Next

(Avanti) per continuare.
NOTA

: 

Una volta rilevata una connessione internet, il tuo router controllerà gli aggiornamenti del firmware.





Passo 5:




Nella finestra

Updates for your router

(

Aggiornamenti per il router)

, l'opzione

Install future router updates automatically (recommended)

(

Installa automaticamente gli aggiornamenti futuri del router) (consigliato)

è selezionata per configurazione predefinita; questo consente aggiornamenti automatici in futuro. Fai clic su

Next

(Avanti) per procedere. 

Puoi sempre modificare questa opzione in un secondo momento.
Passo 6:


Inserisci 

il tuo

Network Name

(Nome di Rete) e la

Network Password

(Password de la Rete) wireless.

 

Ciò si applica alle reti a 2,4 GHz e 5 GHz nei campi forniti e quindi fai clic su

Next

(Avanti). 

Se è necessario rinominare un nome di rete wireless unico per la rete a 5 GHz, è possibile farlo dopo l'installazione accedendo all'interfaccia web.
Crea una password del router e un suggerimento per la password e fai clic su

Next

(Avanti).
NOTA: 

Questa è solo la password del tuo router admin locale.
NOTA:

 

Il suggerimento per la password è visibile quando accedi localmente al router, quindi assicurati di non utilizzare la tua password attuale. Dopo l'installazione, il suggerimento per la password è ora disponibile sullo strumento di

Connectivity

(

Connettività) del tuo conto Linksys Smart Wi-Fi. Puoi anche modificare il suggerimento password in qualsiasi momento, fai clic

 
qui
per le istruzioni.

Il tuo router è ora configurato. Verranno visualizzate le nuove configurazioni Wi-Fi e la password dell'amministratore del router

. Fai clic su

(Avanti) 

per completare l'intera configurazione.
IMPORTANTE: Assicurati di annotare le nuove configurazioni per riferimento futuro.
Dopo aver fatto clic su Next (Avanti), verrai reindirizzato alla pagina

Create Your Linksys Smart Wi-Fi Account

(

Crea il tuo conto Linksys Smart Wi-Fi).

 

Per istruzioni dettagliate su come eseguire questa operazione, fai clic

 
qui
.
Ulteriori informazioni:
EA9500 - Guida per l'utente