The
Linksys 8-port Smart Gigabit Switch, LGS308
offers a quick and easy solution to extend an office network, allowing devices to be located anywhere without the need for alternating current (AC) outlets.  It is designed for customers, who need a low cost switch with basic management but high level feature list including a web-based setup page that provides easy configuration and management, and gigabit speed ports providing high bandwidth capabilities.  It has eight GE ports (RJ-45).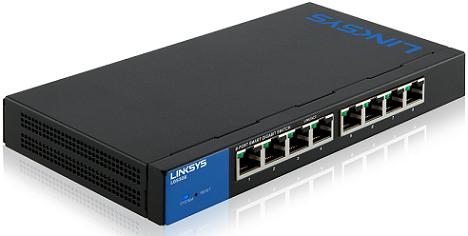 Front view


RJ-45 port LEDs
- Indicates the device's activity status.
OFF - No link detected
Solid - Link is detected/established
Blinking - Transmitting/receiving Data

Reset button
- The reset button is located on the device's front panel next to the system LEDs.
Reset Button Behavior:
Pressing for less than 10 seconds will cause system to reboot after releasing the button.
Pressing the button for more than 10 seconds will cause the system to reboot to factory default settings.

System LED
- Indicates the device's status and activities.
OFF - System is powered OFF.
Solid Blue - System is ON and operative.
Blinking Blue:

Booting/System Self-Test
Device is using the factory default IP address of 192.168.1. 251

Blinking Yellow - Failure detect (e.g. FAN)  
NOTE:
 To know more about the LEDs on the Smart Gigabit Switches, click
here
.
Back view

Features
Port Mirroring - up to 4 sources to one target.
MAC Address Aging - Range 10-630 sec, default 300 sec
Spanning Tree - STP/RSTP
SNMP - OID placing / MIB root
System software and Configuration Management
Quality of Service (QoS)/Class of Service and Rate Limiting - QoS Basic Mode
System IP address Management
Security - RADIUS
Switch Management 
Device management
The Switch can be managed by:
Web-based setup page (HTTP, HTTPS)
Telnet (Menu CLI)
SNMP
Supported browsers
Firefox version 16 and latest
Internet Explorer 9-10 
Supported host operating system
Windows XP
Windows 7 (32 & 64 bit) 
Package Contents
Quick-Start Guide
Power Cord (Power Adapter included with LGS308)
CD with documentation
Rack-mount kit or wall-mount kit 
Memory
DDR2 SDRAM: 64 MB x 16
SPI Flash: 16 MB